Barkley: own import brand
Our strength is that we pick the best proprietary brands to bring you comparable top quality at the most competitive prices. You can rely on that every day. We give those own brands a foothold in the market and contribute to the development of the right profiles. Barkley is one of them.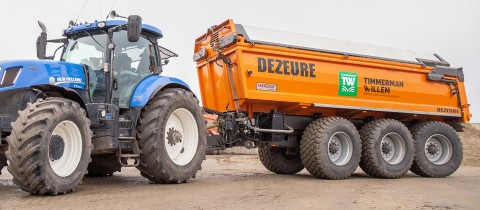 Good usage results
With a wide range of tractor tires, we offer Barkley many alternative choices in front and rear axle tyres. The tyres have been excellently received from the beginning of the first deliveries. During 2017, the range will expand to include tyres for towed equipment. This will make Barkley a brand that then fits fully within the Heuver philosophy of being a total supplier.
Features Barkley tyres
As a brand, Barkley provides tyres for all industries, but has years of experience in the agricultural sector, among others. Barkley agricultural tyres share some common positive characteristics:
Robust, flexible carcasses
Rounded shoulders
Excellent traction thanks to modern profiles
Extra wide tread with perfect cam profile
Excellent driving comfort
High self-cleaning capacity
Low cost per operating hour
Barkley: Feel the Difference!
We use the slogan "Feel the difference" for Barkley for good reason. You notice in everything that you have a quality product, but experience a completely different price feeling. Barkley's price/quality ratio is unique. Products of our own brands make a difference in price, but never in quality. That's our promise!
Would you like to know more about the Barkley tyres that we offer, the benefits of use and the available sizes and profiles? Contact our experts at +31 (0)523 850 850. They will be happy to answer any questions you have about your Barkley tyres! You can also read all about tyres on the knowledge page.