Heuver Tyrewholesale gradually expands range LingLong radial tractor tyres
Within a few months of its introduction, Heuver Tyrewholesale is now further expanding its range of LingLong tractor tyres. After launching a comprehensive range of 85-series tyres for driven axles, tyres are now also available in the 70, 80 and 90-series. Heuver has used this range to focus on sizes that are in high demand within the market for traditional brands. LingLong combines the quality and performance of renowned brands with a very competitive price. Series for towed vehicles will also follow in the future.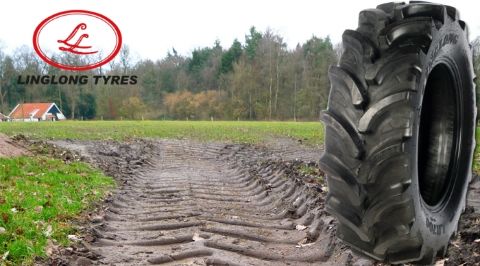 Exclusive import rights Western Europe
Bertus Heuver, director Heuver Tyrewholesale: "LingLong allowed us to use an excellent price/quality ratio to exploit opportunities in the market for agricultural tyres. Last year, we started to exclusively import popular sizes in the 85-series into the Western European market. We have now expanded these activities to other series. LingLong radial tyres are able to meet demand in the new and replacement market. There is a lot of demand for high quality tyres, which are also durable, reliable and competitively priced. And LingLong perfectly meets these criteria. In addition, the product is also suitable for the modern and technology-oriented markets encountered in regions like Germany, the Benelux and France. The speed at which the range has been developed indicates how keen we are to offer this product on the European market."
Improved cost-efficiency
LingLong tyres feature an RW1 profile. This represents a 20% improvement in the depth of tread profile, compared to standard tyres available thus far. This significantly improves life span, while the modern profile structure and rounded shoulders help to spare crops and underlying soil. This is important to the efficiency and overall performance of agricultural companies. The profile also has excellent self-cleansing properties. LingLong tyres can be used in various settings, including farmyards, fields and pastures. The tyres are suitable for tractors, harvesters and light shovels, and can be fitted to standard wheel rims. The slogan used by Heuver, namely 'Price & Performance' , says everything about their quality and durability in relation to the price.