Heuver Tyrewholesale obtains exclusive European import rights for new agricultural tyres
Heuver Tyrewholesale will create a European exclusive at Agritechnica 2013 by launching a new brand of agricultural tyres. Heuver will be selling LingLong agricultural tyres exclusively to the European market, with particular focus on Germany and the Benelux. The first tyre to be launched will be the 85-series for tractors, harvesters and light shovels. In the future, this will be followed by other series for drive axles and general equipment. The slogan 'Price & Performance' says everything about benefits available in terms of quality, durability and price. The first tyres were displayed on Heuver's stand at the Agritechnica trade fair.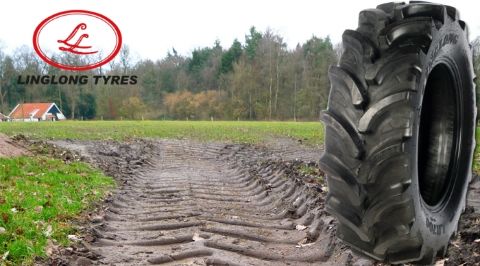 Exclusively for Europe
Bertus Heuver, director Heuver Tyrewholesale: "For quite some time, we have noticed an opportunity in the agricultural tyres market for a brand capable of offering the best price/quality ratio. We have now found this brand in LingLong, which is a large and ambitious tyre manufacturer, and have utmost confidence in their products. Comprehensive testing on the tyres has confirmed our initial impression; LingLong tyres meet the high quality standards we set and will give our customers the certainty they have become accustomed to. That is why we immediately attempted to obtain exclusive import rights for the whole of Europe when negotiations started. These tyres represent a major breakthrough in the new and replacement market for agricultural tyres in Europe."
High quality product
"LingLong is an extremely strong partner, which should be able to serve a third of the market in this segment", adds Heuver. "In terms of sales, we will start off in Germany, the Benelux and France. These countries have a modern and technology-based market which, from a price perspective, will perfectly suit this new high-quality product. We will start by supplying 85-series radial tyres for drive axles, which account for around 75% of the market. This will later be followed by the 65 and 70-series. Our tests did not identify any shortcomings, which means we can fully guarantee the quality of these radial tyres. This is the kind of certainty we always want to offer to our customers."
Long life-span and durable
The 85-series R1W tyre has 20% more profile than comparable tyres. This helps to significantly improve life-span and reduce operating costs. The tyres have high self-cleansing properties, a lot of grip and a modern design that complies with all European requirements. The 85-series is suitable for tractors, harvesters and light shovels, and simply fits on standard wheel rims.The series is ideal for use on farmlands and meadows. In addition, the rounded shoulders help to spare crops, which has a positive impact on yields.
With an annual turnover in excess of 3 billion dollars, the LingLong Group is one of the top-3 Chinese tyre manufacturers and employs 12,000 people.