Heuver was completely ready for The Tire Cologne
-PRESS RELEASE- No international fair in Cologne this year, shifted to 2021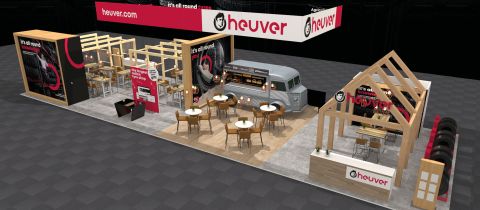 Due to the corona crisis, The Tire Cologne has shifted to 2021. However, Heuver continues as usual in these times. During the Tire Cologne, the tire fair that takes place every 2 years and where companies from all over the world come to, Heuver was happy to present its most important plans to an international audience. A virtual tour of the huge warehouse should of course not be missing!
Plenty of contact from home
"Health always comes first", says director Bertus Heuver. "We want our employees and our customers to remain healthy, which is why we work entirely according to the measures that the government has introduced. Our account managers work from home and are just as easy to reach as ever, via telephone, email and WhatsApp. But they can't meet their relations at The Tire Cologne this year and that hurts. Although there is no doubt that this was the decision to be made. But we were all looking forward to Tire Cologne. This is the fair in the industry and the ideal place to present our company and our new products."
2 years 100% warranty on Aeolus NEO series
"What would we have shown? The Heuver company stands for a number of strategic brands within Europe. We are proud of the high-quality Aeolus program and the diversity of this brand, as well as the recently established 2 years 100% warranty on the Aeolus NEO series truck tyres, that we can offer to our customers, which perfectly matches our slogan: Aeolus, no matter what. For the strong Aeolus brand we have also been able to hook on many well-known OEM partners. In addition, Barkley and Trazano and our own brand of steel truck wheels Athlete were put in the spotlight. Besides that we naturally have a big stock of almost all A-brands, which seamlessly matches the needs of our customers. In short: a huge choice of budget and premium brands."
Also strong in OTR and agriculture
"In addition to truck tyres, we also wanted to present popular products from the earthmoving-, industrial- and agricultural tyres sector. In these segments, customers also value our strong own brands Aeolus, Barkley and MRL, in addition to a large number of other budget and A-brands. More than 1,000 used OTR and 500 used agricultural tyres are permanently in stock and are in great demand. We can also supply the corresponding rims for every type of machine. All this information is bundled in our Heuver OTR tyres book, a book in which we share our knowledge and pride ourselves on being a true full-service-partner for our customers."
Renewed webshop
"Finally, our webshop also plays an important role. The Heuver webshop offers a quick overview of all relevant technical information and ordering tyres and wheels is very easy, 24 hours a day. The webshop has recently been renewed and it is now even more supportive in the day-to-day business for both our customers and our employees. We would have liked to prove that at The Tire Cologne."

END PRESS RELEASE