New sizes Barkley BLA03 and BLA07
- PRESS RELEASE - High-quality agricultural transport tyre with operating hours guarantee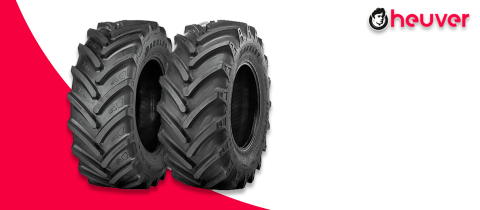 New sizes were recently added to the Barkley BLA03 and BLA07 series. These agricultural tyres ensure effective grip and traction in various situations, which makes them ideal for transport purposes. All of them have been developed with speed index D (= 65km/h). But they are also accompanied by Heuver's operating hours guarantee.
Specially developed for large tractors
Enno Schottert, product manager agricultural tyres at Heuver, says that the new sizes have been specially developed for larger tractors in the market: "The 650/85R38 allows us to offer a suitable rear axle tyre for large high-power tractors. The bearing capacity of this rear axle tyre is 6500 kg at 65 km/hour, while the front axle tyre offers 4125 kg at the same speed. That is similar to all other leading tyres in this segment."
Wide contact area with the surface
Another important feature is the actual width of the Barkley BLA03 and BLA07 series, says Enno Schottert: "Unlike tyres by other brands, these tyres are wider at the top, which means they have a large contact area with the surface. Customers who have been driving with these tyres in recent months are very pleased with the results."
The new sizes: 650/85R38 and 600/65R34
Besides existing sizes, the BLA03 and BLA07 are now also available in the following sizes:
Operating hours guarantee thanks to proven performance
"We have noticed that customers are becoming increasingly convinced by the top quality offered by Barkley", says Enno Schottert. Naturally, it helps when Heuver also gives a guarantee for the minimum number of operating hours offered by Barkley tyres. "The fantastic performance of Barkley agricultural tyres means we dare to give customers an 80% operating hours guarantee for the L/S index and casing, compared to premium tyre brands in the same category. This means we can ensure the lowest possible price per hour for our professional users. And they can hold us to this guarantee. This is our way of guaranteeing an excellent price/quality ratio."