New sizes Barkley BLF01
-PRESS RELEASE- High-quality flotation tyre for transport use with operating hours warranty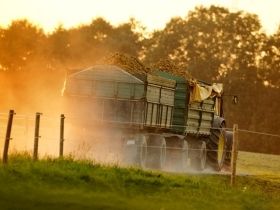 New sizes of the Barkley BLF01 series have recently been introduced. These Steel Belted (SB) tyres are equipped with a directional block pattern. This makes them ideal for transport use. All of them are developed with speed index D (= 65km/h). Moreover, Heuver offers an operating hours warranty here.
Safer and faster driving
The BLF01, which is now well-known in the agricultural sector, is used for agricultural transport to transport heavy loads. These tyres can be used with variable air pressure, which ensures as little soil compaction as possible. On land, the pressure can easily be reduced, while on the road you can drive with a higher air pressure. This allows safe driving at a higher speed while at the same time minimizing wear.
Operating hours warranty due to great performance
"We see that our customers are increasingly convinced of the top quality that Barkley offers," says Enno Schottert, product manager for agricultural tyres at Heuver. Due to the great performance of the Barkley agricultural tires, we dare to give our customers an 80% operating hours warranty compared to other premium tyre brands. This ensures the professional user the lowest possible cost per (operating) hour. They can really keep us to that warranty. This way we guarantee an optimal price / quality ratio."
END PRESS RELEASE