New Barkley winter tyre added to range
One thing is certain; the winter is coming. But no one knows what kind of weather we can expect. You should advise your customers to avoid unnecessary risks of downtime or - even worse - fines for failing to mount winter tyres. Naturally, we will help you to remind them about changing their tyres in good time and have added an excellent new winter tyre to our range: the Barkley BLW Wintergrip.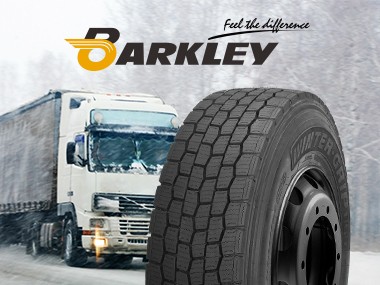 Tight-knit partnership
We have established a tight-knit partnership with Barkley and are the brand's exclusive importer for the European market. We inform them about preferences, trends and statistics, examine development options for tyres and adopt a joint approach to sales and marketing. This means we can guarantee top quality tyres which are always available from stock at the best possible price.
Focus on Europe
Barkley is able to distinguish itself from many other Asian brands thanks to its desire to innovate and focus strongly on the European market. The brand has also adopted a long-term vision. And this has now allowed us to add superb winter tyres to our range: the Barkley BLW12 and BLW18 Wintergrip.
Wider and more millimetres
Other characteristics of the Barkley BLW include the modern wide tread, which results in excellent traction, and extra millimetres in the tyre's pattern. This helps to significantly reduce wear and tear, and improves the tyre's life span. This 3PMSF tyre excels thanks to its excellent grip, high stability and short braking distance. In other words, the tyre is at home in the snow. The tyre is a true winter tyre and is capable of dealing with all conditions. All these benefits are standard, and reflect Barkley's high quality norms.
15% higher yields
The new BLW winter tyres help to improve yields by 15%! And that should be a welcome message for your customers. The BLW18 (for drive axles) will be available from stock as of August 2017; the BLW12 (for steering axles) will follow in the autumn of 2017.

The Barkley BLW18 Wintergrip is available in the following sizes:
• 295/80R22.5
• 315-70R22.5
• 315/80R22.5