EURO 2020 Webshop Giveaways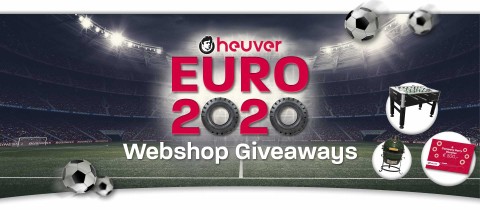 Win stunning prizes by simply ordering online at Heuver!
Every online order that you place between 11 June 2021 and 11 July 2021 gives you the chance to win one of the crazy EURO 2020 prizes below for you and your team!
1. Professional table football table Heemskerk TacTic
The Heemskerk TacTic (worth €870) is the very best of Heemskerk's football tables. The TacTic table is rightfully the pride of Heemskerk's range of football tables. Not only because the table looks stylish and sleek, but particularly because the football table is unbelievably solid. The high quality of the TacTic makes it the perfect table for your company. In addition, the players have been mould around the rods, instead of being screwed, which means they are more or less unbreakable. Thus ideal for the intensive table football matches between you and your colleagues.
2. €500 Company Party Voucher
You can use the Company Party Voucher worth €500 to personally organise a fantastic staff party for you and your colleagues. The Company Party Voucher can be redeemed up to 31 December 2022, which means you have plenty of time to organise an unforgettable staff party. Everything is possible with the Company Party Voucher, whether you have a barbecue, karaoke party or dinner in mind!
3. Patton Kamado Ceramic Charcoal Barbecue
This ceramic Kamado charcoal barbecue by Patton (worth €179) will allow you to organise the best barbecues for you and your colleagues! Due to the excellent heat-isolating properties of the ceramic dish (resistant up to 1000 degrees Celsius), this barbecue retains meat juices better than any other charcoal barbecue, and its accurate air-flow controls allow you to bake pizzas and bread, in addition to traditional grilling and smoking!
Promotion conditions
Every order placed between 11 June 2021 and 11 July 2021 will automatically allow you to participate in the Web-shop Giveaways promotion. No extra costs are involved. Prize winners will be drawn at random from all orders placed between 11 June 2021 and 11 July 2021. Prize winners will be contacted once EURO 2020 comes to an end (between 14-07-2021 and 16-07-2021). Heuver will contact the winners by phone. Correspondence cannot take place about the result and the award of prizes. Prizes cannot be exchanged for a monetary amount. We will be pleased to help if you have questions or complaints. If this is the case, you can get in touch with us via the contact page. This prize promotion complies with the code of conduct for promotional gaming.