Galileo CupWheel: more grip, less wear
Under the name CupWheel, Galileo is marketing a tyre that is revolutionary.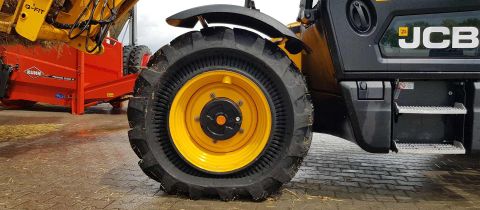 The first reports are good. And just to be sure, we are also testing it ourselves with our customers. The agricultural tyres will be coming soon, but Galileo's earthmoving tyres are already available. The 12CW16.5 can already be found online at Heuver.
What is so different and revolutionary about these tyres?
The construction is different from what you are used to and ensures a different interaction between tyre and rim. As the tyre pressure decreases, this tyre transforms itself into a track with better distribution over the ground. The technology even allows the air pressure to be lowered to 0.4 bar under the right conditions and allows driving at lower speeds without destroying the tyre.
Galileo TeleCup: especially for telehandlers
Telehandlers operators often have to deal with extreme working environments that are both dangerous and costly resulting in downtime and increased tread wear. After years of research, Galileo has created a tyre that can withstand these conditions.
By combining the benefits of pneumatic tires, solid tires, rubber tires plus other special solutions, Galileo has produced the TeleCup. A perfect solution for telescopic, backhoes and compact loaders working in agriculture and construction.
You won't have to deal with any more costly downtime, uncomfortable ride and lack of efficient load index. The Galileo tire is designed to improve safety thanks to greater lateral stability, have resistance to flat tires and improve ride comfort.
What you will enjoy with your new TeleCup:
Sidewall resistance to punctures
Run-flat capabilities
Increased lateral stability
Smoother and safer ride
Decreased treadwear
Larger footprint
Increased efficiency
Load index envelop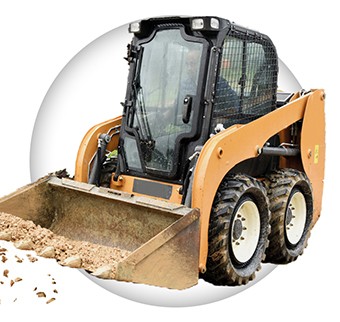 Galileo SkidCup: specifically for skid-steer loaders
Galileo has also developed a tyre specifically for skid-steer loaders: the Galileo SkidCup. Drivers of skid steer loaders often have to deal with severe working conditions that lead to costly downtime, increased tread wear, damage to the machine, reduced load index and a general lack of comfort while driving.
Galileo SkidCup's patented technology is the only solution that eliminates all these drawbacks, improves operator comfort, extends machine life, increases load index and ensures zero downtime. While work efficiency is greatly improved and operational costs are reduced.
You will benefit from this thanks to the new Galileo SkidCup:
Lateral stability
Run-flat capabilities
Smoother driving
Reduced tread wear
Larger footprint
Increased efficiency
Larger load index
And the range continues to grow
The Galileo range continues to grow. We will keep you informed about tests and when new variants are available. Do you still have questions about the new Galileo CupWheel? Our specialists are ready to help you.
For more information and options for your machines: