Tractor tyres with power
Productivity is an essential factor in modern agricultural companies. And high productivity is they key to success. Tractor tyres are now accompanied by much stricter basic requirements and modern tractor tyres have become so much more than just 'black and round'. This certainly applies to Barkley as a whole, and their BLA03 in particular; as tests have proven.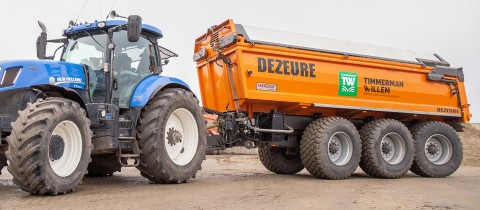 Stronger and heavier
Due to the need for higher productivity, machines have increased in size. Heavier tractors are thus needed to pull them, and must be as versatile as possible to reduce the number of tractor changes. And such technological developments are playing an important role.
Versatility
Tyres have to meet greater needs because tractors have become stronger, faster and heavier. The Barkley BLA03 offers a lot of traction in fields, while offering sufficient soil protection. In addition, tractors are increasingly having to cover greater distances on the road; at higher speeds and with heavier loads than in the past.
Unprecedented durability
These facts have been taken into account when developing the BLA03. And that while still focusing on sustainability and durability - two important conditions for effective performance. For example: the Barkley BLA03 underwent the same testing programme as a tyre by a very famous and renowned brand. And after 1,500 operating hours, the BLA03 achieved the same results! Because its price is considerably lower, the BLA03 is guaranteed to improve the profitability of any agricultural company.