Wholesaler agricultural tyres
Are you looking for new agricultural tyres? Heuver Tyrewholesale offers over 100,000 tyres and wheels by many brands. We can deliver quickly from stock and offer the best possible service.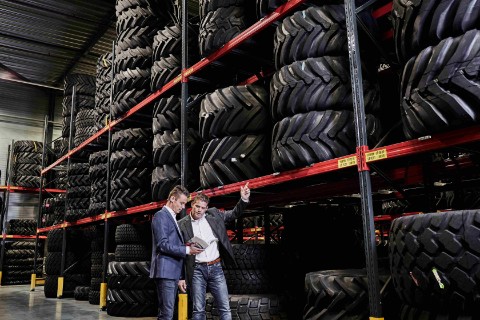 Need agricultural tyres? Heuver Tyrewholesale can supply them!
Agriculture has been an integral part of our company ever since it was founded in 1966. Founder Mans Heuver was actually the son of a farmer. During the Seventies, he thus gradually expanded his company into an agricultural tyre wholesaler. Since then, you have had access to a very diverse range, competitive prices, fast delivery and always the best service. Our Drive to Succeed is Your Benefit!
Register now to order your agricultural tyres online
Would you like to purchase tyres in our web-shop? Then use the registration form to create an account. If your application is approved, you can contact us 24/7 for detailed information about our complete range of new agricultural tyres. Would you like to know which agricultural tyres best suit your situation or that of your customer? Then contact us for specialist advice. Phone +31 (0)523 850 850 or complete the contact form.
We believe in our brands
Are you familiar with our in-house brands Aeolus, MRL, Alliance and Barkley? Rick Bakhuis, Agricultural back-office assistant at Heuver Tyrewholesale, can tell you everything you need to know. He is very knowledgeable about agricultural tyres, which can partly be attributed to his background:

"My parents run a dairy farm, so I know a thing or two about tractors and machines. I also know how such equipment should be used effectively. My personal experience in this area allows me to give customers suitable advice. And I really enjoy doing so. In addition, I am also a bit of a machine freak. I am active in the world of tractor pulling, where tyres determine how much grip you can create. I have enough experience and know how to deal with such matters, for example, by adjusting the tyre pressure. Tractor pulling is all about pushing the limits. When at such events, I sometimes do stunts that I would never recommend to my customers, haha. But this clearly demonstrated my passion for the profession."
Advice that saves money
Rick provides a very simple example about the advice he provides concerning agricultural tyres: "A customer recently came to see us in Hardenberg and was looking for cheap tyres for his tractor, which was used to pull a mix-feeder. I asked him if the mix-feeder was self-loading or whether it had to be filled using a shovel? 'It is self loading', he said. In that case, I recommend Alliance tyres for a bit more traction, because they will last longer than tyres you buy simply because they cost a bit less. There were no more questions; the customer ordered the tyres and everything was fine. Such advice helps customers to save money by reducing their price per operating hour."
Always a reasonable response
Rick is confident about the effectiveness of our in-house brands. This is something we always notice in practice. "The Barkley BLA03 is doing very well at the moment, particularly when it comes to contract work. As a wholesaler, we sometimes offer them to customers that actually want a premium brand, but also want the guarantee that they can return them within 14 days if they do not meet expectations, without having to pay assembly costs. But people never feel the need to return them. We also give an honest answer if our in-house brands are unable to offer a suitable agricultural solution for our customers."
For more information about agricultural tyres, sizes and types, please visit the dedicated Aeolus website.