Load/Speed Index for OTR tyres
Bearing capacity is normally expressed by the Load Index (LI) on radial tyres or by the PLY rating (PR) on diagonal tyres. Speed and bearing capacity are often also linked; this is referred to as the Load/Speed Index.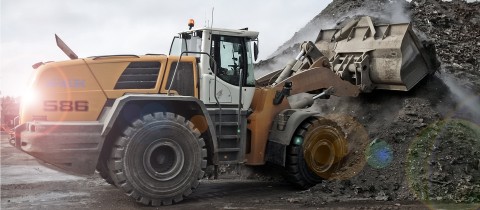 Therefore, a Load/Speed Index of 133A8 means the bearing capacity is 2060kg at a maximum speed of 40km/h.
Specific speed indexes for OTR tyres
| | | |
| --- | --- | --- |
| Purpose | Maximum speed | Accompanying speed index |
| Tyres for loaders | 10 km/h | A2 |
| Industrial tyres | 25 km/h | A5 |
| Grader tyres | 40 km/h | A8 |
| Transport tyres | 50 km/h | B |
| Tyres for mobile cranes | 70/80 km/h | E/F |
To effectively protect tyres, you must make sure that the speed index is not exceeded. In the interest of safety, it is sometimes necessary to implement a cooling down period for some tyres. This stops tyres from exploding after they have overheated. In addition, the air pressure inside the tyre is very important depending on the type of work you are carrying out. The production overview in this handbook mentions the recommended air pressure for each tyre.
The OTR tyres book
We have collected all our earthmover knowledge for you in one handy book. So you always have all the information easily and quickly at hand!