Metal powerhouses
Even if you have the best OTR tyres, which match your machine and purpose perfectly, they will be of little use to you without appropriate wheels. Thanks to modern laser cutting machines and robot technology, metal wheels are now high-precision products. This applies to 1, 3 and 5-piece wheels. The type of tyre you need will be determined by the machine, tyre dimensions and the purpose.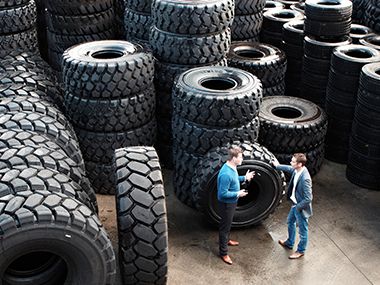 3-piece or 5-piece
Earth-moving machines normally feature 3 or 5-piece wheels. How do you see the difference? 3-piece wheels consist of a rim, side ring and a lock ring. 5-piece wheels have a rim, two side rings, a seat band and a lock ring. You will always see a separate seat band on 5-piece wheels. The rim and seat band are one piece on 3-part wheels. In both cases, a rubber lock ring is placed between the rim and the side ring. This prevents air from escaping.
The disc is everything
The disc is a fixed component in every wheel. Depending on the purpose and requirements, this tends to be welded along the centre-line of the rim, towards the outer edge (positive offset) or towards the inner edge (negative offset). The position of the disc provides space for the brake drum. Its position also determines the width of the trail, handling and load-bearing capacity (load) per wheel.
Assembly
Wheels must be centred when assembled on a vehicle. This is possible in three ways: using bolts; using the axle or using both.
Bolts are first inserted diagonally and then tightened to the required torque value (force) using a torque wrench. The torque value is mentioned in the manufacturer's vehicle specifications. The bolts must be checked after the first one hundred kilometres.
Tips:
Clean the rims prior to assembly
Check whether the rims are suitable for the purpose in question or if reinforced rims are needed