OTR tyres, there are essential differences
OTR tyres are available in many types because they are used for such a wide range of activities. If we look at pattern depths, we encounter four different types, namely E2/L2/G2, E3/L3/G3, E4/L4, L5.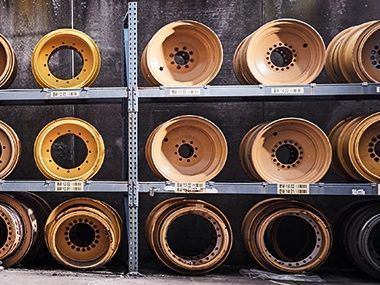 Three basic types
The standard version features a pattern depth of N (for Normal), which is referred to as the 100% pattern. Tyres with this type marking are available for categories E2/L2/G2, E3/L3/G3, E4/L4, L5.
A deep-pattern tyre is available, namely the D1, if greater tyre protection is needed due to the encountered surface or conditions. This tyre has a pattern depth of N x 1,5, or a 150% pattern. It is available for categories E4 and L4.
If even more protection is needed, we can supply branded tyres with an extra-deep pattern and a D2 marking. In this case, the pattern depth is N x 2,5. Or in other words, the tyre has a 250% pattern and a TRA code of L5.
Categories
Our tyre brands comply with all international standards and can supply the above mentioned tyre types for the following machines:
E = Earthmoving - dumper and transport
L = Loader and bulldozer
G = Grader
If you have any questions, we will be pleased to answer them and help you to select the right tyres.

All tyres, irrespective of the sector or type of work for which they are used, have been designed and produced to meet the following pre-requisites:
Able to bear the weight of the load as well as the vehicle
Suitable for, and resistant against, intended speeds
Able to drive on a variety of surfaces
Able to correctly 'steer' the vehicle
Able to offer driving comfort
Able to transfer the power of the engine
Durable and robust, and thus cost efficient