Powerhouse that make a difference
Barkley is a brand of high quality OTR tyres, which offers quality that matches the more renowned brands. However, affordability is one of Barkley's core principles. We can offer our customers the best possible choice thanks to a balanced range of popular sizes and profiles.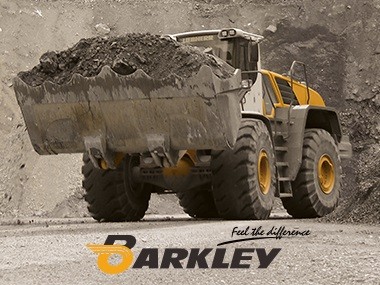 Ensuring top quality
We have been a leading European player in the OTR market for many years. We know exactly what people need. In the meantime, Barkley has started to occupy an increasingly prominent role in our strategy. The Chinese brand perfectly suits our whole range as well as our company as a whole.
As exclusive European importer since this successful brand was launched, we have been able to establish a strong relationship with the manufacturer. This involves working together to create a modern range of OTR tyres, which are produced with great care for design, development and state-of-the-art production technology.
Old guard
The tyres perfectly meet the latest legal requirements and customer preferences. Our partnership and bulk purchasing activities allow us to offer the most competitive prices for Barkley tyres, while ensuring you receive top quality.
Barkley makes a difference in Europe ('Feel the Difference') and is a major challenger to the old guard.
Best specifications
For example, the BLB06+ and BLB07+ OTR tyres. Modern tyres, which comply with standard norms and all important European labels. The tyres have a broader tread, which is what customers want, and are suitable for severe conditions, like on wheel loaders and machines used underground and in quarries. The tyres are robust, which means they can deal with friction created when twisting and turning on rough surfaces. Their excellent rubber compound means the tyres are very durable and offer a lot of stability.
Feel the Difference
Barkley – which is one of the top players in China – has decades of experience when it comes to all types of OTR tyres. So it's no surprise that - with support from a leading specialist like Heuver - the brand has excelled and become so popular in the European market in such a short period of time.