TKPH: Tonne Kilometre Per Hour
What is the load (tonnes) I can transport with my dump truck per hour? This question is regularly encountered for dump trucks, and is particularly important in the mining industry, where routes are sometimes altered and a machine's cycle can suddenly last a lot longer than expected.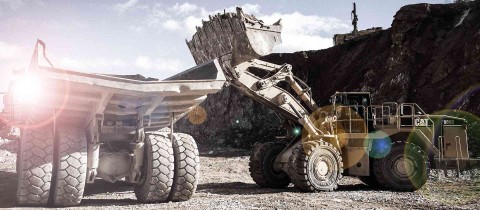 The markings on the tyre will actually mention if the tyre is suitable for a longer cycle. This is done using the TKPH marking: Tonne Kilometre Per Hour.
The TKPH of a tyre is determined by its star rating and, in particular, the used rubber compound. The tyre will be heat resistant, cut resistant or a combination of the two. TKPH has nothing to do with the tyre size, vehicle type or soil condition.
The TKPH formula calculates the average speed the tyre can realise within a safe temperature range and within an appropriate transport capacity.
The used formula (average load x average speed) is as follows:
TKPH = ( (Q loaded + Q empty) / 2) x (N x L) / H) )
Q loaded = Load per tyre on the loaded vehicle
Q empty = Load per tyre on the empty vehicle
N = Number of cycles per working day
L = Length per cycle in kilometres (there and back)
H = Number of operating hours per day
In this case, also consider the environment temperature and the dispersion of total weight when loaded.
Sample calculation:
| | | |
| --- | --- | --- |
| Load per type | Empty | 9,000 kg |
| | Loaded | 15,000 kg |
| Operating hours per day | | 8 hours |
| Number of cycles per day | | 15 cycles |
| Distance per cycle | | 14 km |
Average load: (15,000 + 9,000) / 2 = 12,000kg (12 tonnes)
Average speed: (14 km x 15 cycles) / 8 = 26.25 km/h
TKPH: 26.25 km/h x 12t = 315 TKPH
Important
The tyre's TKPH value must be higher than the actual (calculated) TKPH value during use, otherwise the tyre will be unsuitable. Therefore, in the example above, one must select a tyre with a TKPH value of 315 or more.
The OTR tyres book
We have collected all our earthmover knowledge for you in one handy book. So you always have all the information easily and quickly at hand!