Tyre pressure and solid rubber tyres
The life span of an OTR tyre can mainly be maximised by selecting the right tyre pressure. After all, it's the air in the tyres that carries the weight of the vehicle and the load it may be carrying. That is why it is important to always set and maintain the right air pressure; this is recommended by the concerned tyre manufacturer and is in keeping with the tyre's maximum load (in accordance with the Load/Speed Index). The recommended air pressure for each tyre can also be found in the product overview in this handbook.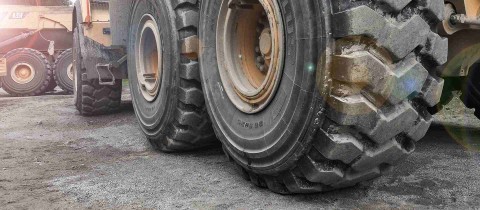 Three-way relationship
Standard tyres have the ideal balance between load per tyre in kg, speed in km/h and air pressure. This three-way relationship ensures ideal ease of use. If you adjust one of these factors, e.g. higher maximum speed while the load remains the same, then tyre pressure must also be adjusted. The table below contains an example for the 445/95R25 AEOLUS AR28 *** 174F E2 TL.
The figure 6700 has been highlighted in the table, because 6,700 kg at 80 km/h corresponds with a Load/Speed Index of 174F. The accompanying tyre pressure is 9 bar, which is also the recommended air pressure for this tyre. If you would like to learn more about the right tyre pressure, you can always contact us for tailor-made advice.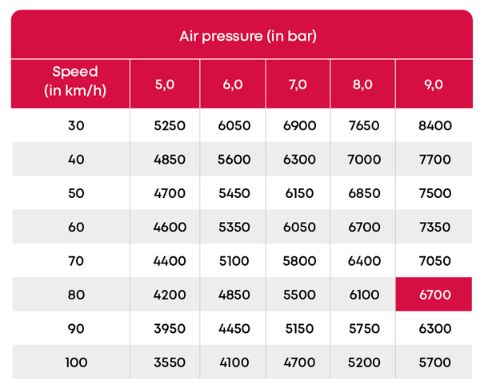 Too low or too high: always harmful
Tyre pressure that is too high or too low can have a major negative impact on the tyre's performance. In essence, that is why OTR tyres are not low-pressure tyres. But life span is not the only factor to be negatively influenced by e.g. (very) low pressure. The risk of premature damage and danger also increases because various parts of the side wall become way too hot. In addition, fuel consumption increases if OTR tyres do not contain enough air. The consequences of driving with insufficient tyre pressure are not always immediately visible, and can still be encountered even after you have adjusted the tyre pressure. As such, it is important to regularly check tyre pressure and to add more air wherever necessary.
Here are a few examples (compared to ideal - recommended - pressure): if the air pressure is 50% too low, this reduces life span by 70%; if the air pressure is 50% too high, this reduces life span by 30%. This decrease is 20% if pressure is 'just' 15% too low and 10% if pressure is 15% too high.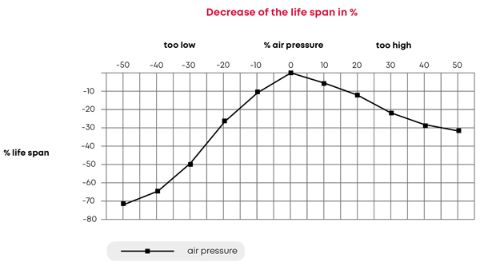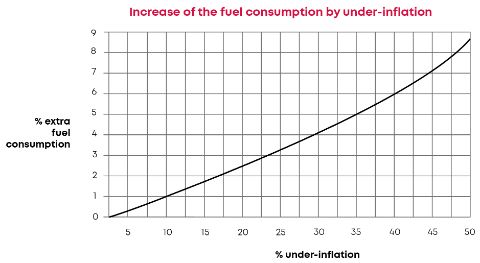 Determining suitable air pressure
What do you need pay attention to when determining the correct air pressure for your OTR tyres? Several guidelines need to be taken into consideration:
Determine the total weight of the vehicle by checking the manufacturer's details or by weighing each axle separately.
Calculate the load per tyre (for - mobile - cranes, divide the total weight of the vehicle by the number of axles and then divide this figure by 2). Make sure you take into account any extra loads placed on each axle (like the counterweights on cranes).
Use the pressure table to determine the appropriate tyre pressure for your situation.
Also take into account information relating to haulage and transport.
It is sometimes possible to use lower tyre pressure when special vehicles are used at low speeds.
Foam-filling tyres
In some cases, it is best to take extra - precautionary - measures to reduce the likelihood of a flat tyre. This can be done by replacing the air in tyres with polyurethane, or 'foam filling' the tyres. This will stop tyres from puncturing if they are damaged.
This is highly recommended:
On building sites with very rough surfaces
In foundries
When recycling scrap
When recycling glass
In brick factories
Solid rubber tyres are suitable for lower speeds and flat surfaces, and offer a high level of stability and high bearing capacity
Solid rubber tyres
If 'foam filling ' is not enough to help tyres resist cuts and punctures, then solid rubber tyres could be the ideal solution. These tyres never puncture and are also available via us.
Solid rubber tyres are also referred to as SE tyres (Super Elastic) and, as the name suggests, are solid tyres which need not be filled with air. These tyres are suitable for lower speeds and flat surfaces, and offer a high level of stability and high bearing capacity. These tyres are also very agile because they consist of several layers of rubber. As such, solid rubber tyres combine the positive qualities of solid and pneumatic tyres. We make a distinction between the following types of solid rubber tyres:

2-layer solid rubber tyres consist of a hard rubber layer, which is reinforced using metal wire rings, and a thick wear layer. Thanks to the special compound and additives to the rubber, these tyres are very unlikely to slip.
3-layer solid rubber tyres feature a third rubber layer, which is flexible and is located between the heel layer and the wear layer. As a result, this type of tyre offers more flexibility and stability than 2-layer tyres. However, due to the extra layer, these tyres are also quicker to heat up. Due to this heat, the rubber becomes softer at higher speeds and loads, which means the tyres are susceptible to more wear & tear.
Special solid rubber tyres, including anti-static solid rubber tyres, are also available for special purposes. These anti-static tyres are ideal for use in areas with high risk of explosion. Oil-proof solid rubber tyres have also been developed for companies that work with greases and/or oils. On top of that, non-marking tyres are also available, which do not leave tracks on the floor and are ideal for warehouses, for example.
The OTR tyres book
We have collected all our earthmover knowledge for you in one handy book. So you always have all the information easily and quickly at hand!