Tyres for loaders
In most cases, loaders are deployed on rough terrain and surfaces featuring rubble and waste materials. That is why tyres must feature properties that protect them against incisions and damage.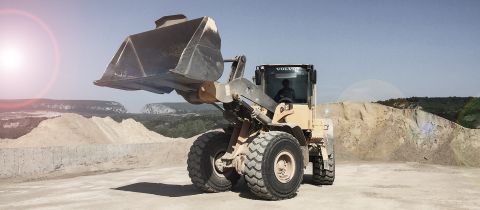 Loaders normally scoop up loads and transport them over short distances. As a result, unlike under normal wheel movements, tyres are exposed to a lot of turning and manoeuvring. This leads to friction and thus wear and tear. Tyres must thus be robust enough to deal with such demands.
In situations where loose surfaces are encountered, great demands are placed on the tyre's flotation properties and the traction of the profile. Tyres also make sure the loader is stable enough during all manoeuvres. In general, loaders do not travel at high speeds. When special front loaders are used in mines, where moisture and rough terrains are encountered, L-4S and L-5S tyres normally tend to be selected. They feature a special, smoother profile which offers excellent resistance against damage and incisions.