Avoid aquaplaning with the right truck tyres
Everyone wants to avoid an accident. But this can be difficult when it comes to aquaplaning. By fitting the right truck tyres on your trucks, you can help to keep risks to a minimum on wet surfaces.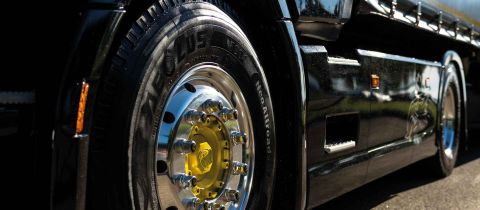 Water pressure higher than weight
Maurits Bloem, Product manager Truck tyres, explains exactly how aquaplaning occurs: "When aquaplaning is encountered, contact between the tyre and the road is lost because water comes in between. This happens when the pressure that water places on the tyre exceeds the weight that is placed on the tyre. Aquaplaning among trucks is less common than among passenger vehicles, but you should still do everything to avoid it. The difference is that trucks are much heavier and have a larger contact surface with the road."
Expelling water laterally
Truck tyres have very high pressure per square centimetre. However, it must be possible to effectively expel water if aquaplaning is to be avoided, concedes Maurits Bloem: "This expulsion occurs laterally on the tyre. That is why truck tyres must have lateral patterns, because they allow water to escape. Aquaplaning occurs on the drive axle. So tyres on this axle must have a very good lateral pattern. If the steer axle has grip, but the drive axle doesn't, then the truck will jackknife."
Tip: opt for Aeolus NEO Allroads
Want to be sure that you are using the right truck tyres for preventing aquaplaning? Then we advise you to opt for the Aeolus NEO Allroads. The lateral profile on these tyres allows water to escape via the sides as effectively as possible.