Difficulty selecting truck tyres?
Truck tyres are available in many types, sizes and profiles. There is a good reason for this because tyres are selected depending on where trucks are deployed. Do they mainly travel long distances, do they just make short inner-city journeys or do they regularly travel over rough terrain?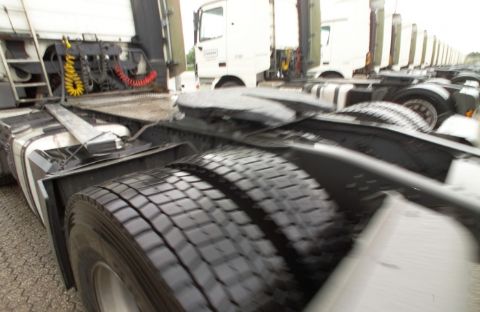 Advice from A-Z
The most important step when purchasing new truck tyres involves determining the area of deployment; this is followed by brand (price), size and profile. Heuver Tyrewholesale likes helping you to find your way around our range and informing you about the various qualities and requirements should you have doubts about the most effective choice. The most obvious tyres are sometimes not the most effective choice in terms of grip, fuel-economy and wear and tear.

Areas of deployment
A few things are needed for all tyres: the right tyre pressure; regular checks for damage and wear & tear as well as concentration when driving - these simple steps can help you to avoid problems. Effective and long-term use is determined by whether the right size has been selected and whether the purchased tyre is suitable for the intended axle position (steering axle, drive axle or trailer axle). In many cases, the area of deployment is mentioned in the type markings.

International transport
This primarily involves covering long distances on highways and motorways, normally at fairly constant speeds and with very few stops; thus with little braking and acceleration.

Regional transport and travel
This involves travelling on national roads and highways, where driving is characterised by regular braking and acceleration. Regional journeys are made, often very short and with many stops; regularly involving distributors/suppliers. This type of tyre can also be suitable for international deliveries.

City and local travel; buses
This involves use of provincial roads and highways. Regional journeys with regular acceleration and braking with heavy loads. Also suitable for roads which are in poor condition. Special target groups: city buses, cleaning trucks and refuse trucks.

Mixed transport
This mainly involves mixed journeys, on hard surfaces and rough terrains, as well as use on building sites (with accompanying requirements concerning used materials).

Intensive construction sites
This involves use in demanding settings, such as stone quarries , or almost exclusive use on construction sites. The tyres have good grip and offer good protection against collisions and other damage, as needed for peace of mind during use.

Light commercial vehicles
These are tyres in the 17.5 inch and 19.5 inch range for transport companies that perform daily deliveries (just-in-time) in and around the city, with continuous acceleration and braking. 

Winter tyres
These are tyres with the M+S logo and/or the snow flake symbol, which have been specially developed for all winter conditions - ice, (melting) snow and rain - and low temperatures. At temperatures of 7 degree or lower, these tyres offer better grip and shorter braking distance on wet and snow-covered roads.

Special applications
There are also specific tyres for specialised vehicles, like mobile cranes and fire trucks, which fully comply with the severe requirements established for such vehicles.

For each area of deployment, the experts at Heuver Tyrewholesale can provide the best conditions and truck tyres, while also offering the very best advice. This allows you to fully benefit from the available reliability and life-span. We will always find the best solution for your mobility and tyre-related issues.