It's all about the rim
Heuver Tyrewholesale not only specialises in tyres for trucks, trailers, OTR machines and agricultural equipment, but also the accompanying rims. They are an essential component when using tyres effectively.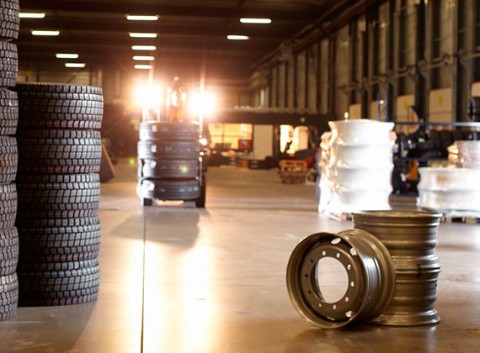 When wheels are used for professional purposes, steel rims are often used. Heuver stocks appropriate rims for all commonly used tyre sizes. If a special size is involved, we will make sure an appropriate rim is delivered as soon as possible. This is part of our service; saying 'no' is not an option.
The thirties
Our fixed suppliers, who allow us to deliver exclusively to the European market, know everything about wheels. Most wheels feature various components which are assembled to form a single wheel. This is particularly the case where speeds in excess of 30 km/h are involved.
The principle behind the modern wheel dates back to the 1930s. However, this doesn't mean state-of-the-art technology is not implemented. Modern steel wheels are manufactured carefully using the latest machines and robot technology.
A lot of variation
The terms rim, wheel, hub (disk or plate) and ring tend to be used interchangeably. Various rolls of steel, modern laser-cutting machines and the best welding techniques are used to create the rim and hub which - each varying in thickness from a few millimetres to almost two centimetres - together form the wheel. Such wheels are available in various widths and diameters. Size will be determined by the intended purpose.
Production
Modern steel wheels must offer the lowest possible tare weight and the highest possible wheel load; without deformation. The rim and hub are automatically assembled and welded during the production process. All this is done within very strict parameters. Then comes the spraying process, which takes place in various layers and involves an electro-cataphoresis process for creating effective bonding and the best possible protection. This is very important for the wheel's life-span.
Assembly
Wheels are assembled (centred) in various ways - using bolts; using the axle or using both. During replacement, the guidelines of truck, machine or trailer manufacturers will be given priority in all case. Wheel manufacturers cater for all available possibilities. Bolts are first inserted diagonally and then tightened to the required torque value (force) using a torque wrench. A check should be carried out once the first one hundred kilometres have been completed after (re)assembly.
Offset
Depending on the purpose and guidelines, three types of offset are available for rims: the hub welded to the central line of the rim (zero offset); the hub more towards the outer edge (positive offset); or the hub more towards the inner edge (negative offset) of the rim.
Shift
Slowly but surely, we will see a shift towards lighter wheels. This means aluminium and composite will start playing an (even more) important role. For example, aluminium wheels are approximately 30% lighter than steel wheels. This reduces the weight of the whole combination and thus decreases fuel consumption. The next step in wheel development involves composite wheels, which are a further 30% lighter and offer by far the best results when it comes to strength. Heuver Tyrewholesale believes this relatively new wheel production technology will play a major role in the future.