New European tyre label As of 1 May 2021
Since 1 November 2012, tyres are obliged to carry a tyre label. A new tyre label will come into effect on 1 May 2021. The tyre label is compulsory for tyres for passenger cars (C1), light commercial vehicles (C2) and heavy commercial vehicles (C3). This renewed label can be found with each truck tyre on our website as from the first of May.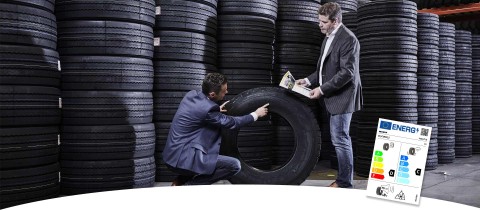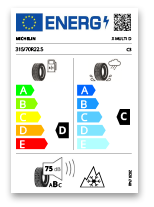 Explanation of tyre label
Each new tyre receives a label, which indicates a performance index for three sectors. This label (sticker on passenger car and light truck tyres) indicates, among other things, the rolling resistance (= fuel consumption). The classification is from A (low) to E (high). The information on wet grip (= safety) is also graded on the tyre label from A to E, where the external rolling noise is given as a value in decibels. The tyre label allows the user to choose a cost-effective and safe tyre, taking into account fuel consumption, grip and environmental impact.
The tyre label must be displayed at all forms of purchase, both online (website, web shop) and 'offline' (such as the showroom and printed information material). Each tyre must be provided with a tyre label sticker.
The old tyre label after 1 May 2021
Tyre retailers (tyre specialists and wholesalers who do not represent a tyre brand) may sell tyres with the old and new tyre labels from 1 May. Tyre manufacturers and importers/wholesalers may only market tyres with the new tyre label as of 1 May.
Tyre Label - Comparison and Information Source
The tyre label makes it easy to compare tyres on three characteristics: fuel efficiency, wet grip and external rolling noise. Dozens of performance criteria, such as dry braking, handling and wear, are not included in the tyre label. You can request these relevant criteria in a consultation with one of our experts.
Wet grip
Wet grip is directly related to the braking distance of a car in wet conditions. The braking distance of a truck on A-rated tyres is shorter than the same truck on E-rated tyres.
Fuel efficiency
Tyres with lower rolling resistance contribute to lower fuel consumption. Choosing A-labelled tyres will result in fuel savings compared to E-labelled tyres. 
External rolling noise
External rolling noise is the sound heard by bystanders as a car or truck passes by. The difference between an A-labelled tyre and a C-labelled tyre is more than 3 decibels.
Additional product information (via QR code)
The QR code is a link to a public, European product database (EPREL) with the digital tyre label and product information sheets.
Snowflake symbol
Winter and all-season tyres with the snowflake symbol (3PMSF) have a tyre label showing this symbol.
Want to know more?
Contact our experts on +31 (0)523 850 850. They will be pleased to answer any questions you may have about your truck tyres! You can also read all about truck tyres on the truck knowledge page.
Source: VACO.nl