The best truck tyres for any situation
No matter what you transport and how you do it, we can offer the best truck tyres for any situation. And we also enjoy offering you the necessary advice! When doing so, we always consider what you will be transporting and how it will be transported. This allows us to advise you about the tyre that best suits your needs. The questions below are always used as the basis for our advice.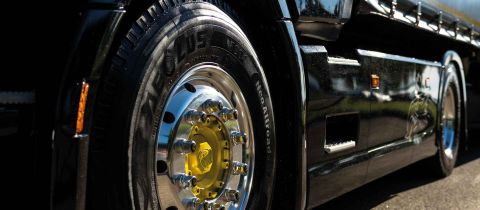 What type of vehicle is involved?
Specific tyres are available for every type of vehicle, so it is useful to know what kind of vehicle you will be using. For example, if you need tyres for an international coach, it is important for tyres to transport people comfortably over long distances. City buses need tyres with reinforced side walls because they often come into contact with curbstones. Such tyres cannot be placed on an international coach because they would become way too hot. It becomes a lot easier for us to find the right tyres if we know the type of vehicle on which they will be mounted!

For what purpose will the vehicle be used?
For example, if you mainly carry out monotonous work, like driving long distances, then a different set of tyres will be needed than for short distances. If the vehicle will perform a variety of movements, then multi-use tyres are the best option. Like, for instance, the Multiway series by Michelin. Truck tyres are subject to different requirements, in the same way as winter deployment, many stops/few stops and international transport.

What do you expect from the tyre?
Once we know the purpose, you will have a very wide range of tyres to choose from. Because, despite the similarities, there are always subtle differences between the remaining tyres. That is why we ask you what you expect from your tyres. For example, do you want the best possible grip? Is it more important to have good steering properties? Or do you favour good traction during poor weather conditions?

For which axle do you need the tyres?
Specific tyres are available for every truck axle. We thus like to know if tyres are intended for the steer axle, drive axle or trailer. We can then offer you an overview of the best possible options. Or you could use the filter feature in our webshop to find the best tyres all by yourself! If you have any other questions, we will be delighted to help you.