The correct tyre pressure for your truck
It remains one of the most crucial issues when it comes to tyres: tyre pressure. Would you like to know the ideal tyre pressure for your truck or trailer? We would like to tell you everything about the correct tyre pressure.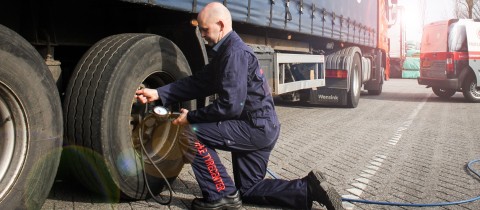 Maximum pressure in loaded condition
Maurits Bloem, Product manager Truck tyres: "If customers ask us for advice about appropriate tyre pressure, then we always assume they're talking about 'in loaded condition'. Everything is based on the maximum load. Because, unfortunately, we do not have a tyre inflation system for trucks, like for agricultural tyres. We only recommend different tyre pressure if trucks regularly drive while not carrying their maximum load."
Truck tyre wear and tear
The damage cause by over-pressure is much less than the damage caused by under-pressure, explains Maurits Bloem: "If tyre pressure is too low, the tyre can puncture while driving. But driving behaviour indicates when pressure is too high, exactly right or too low. Over-pressure reduces stability when driving, because the contact surface becomes too small. It then becomes impossible to properly absorb lateral forces. If tyre pressure is exactly right, then the truck will drive in a stable manner. If tyre pressure is too low, the load will place greater pressure on tyres, you will drive less smoothly and will consume more fuel. If you do this over a long period of time, the heat will change the tyre's rubber compound, and it will be damaged beyond repair."
Naturally, you want to avoid unnecessarily exposing patterns and casings to abnormal loads and wear. This can be done by using the correct pressure in your truck and trailer tyres. Your tyres will be overly compressed if you drive at low pressure and high speeds. This means they will become too hot and the side wall will be exposed to excessive loads. This will in turn accelerate wear & tear and reduce the tyre's performance.
Benefits of correct tyre pressure of truck
It is important to use the correct tyre pressure if you want to exploit the tyre's maximum load-bearing capacity. For instance, tyre pressure that is too high or too low will cost your business money. And it will also reduce safety when driving. So regularly check the tyre pressure and take advantage of these benefits:
the truck/trailer can be loaded to the maximum limit;
the tyre will have a longer life-span;
there will be a positive impact on fuel economy; and
improved safety is guaranteed.
Refer to tyre manufacturer's use table
The tyre pressure for your specific situation will be determined by the wheel load and speed during use. So first determine the total weight of the transport and how fast you can drive. Refer to the tyre manufacturer's use table to find the correct tyre pressure. Thus no general table or the table for another brand because there can be major differences between the various brands. Our experts will always help you to find the right tyre, for the right purpose and at the right pressure.
Monitoring on the rise
Within five years, around half of the trucks in the Netherlands will be equipped with monitoring, which measures whether the correct tyre pressure is being used, predicts Maurits Bloem: "Drivers will then be able read tyre pressure on the board computer and decide if they need to make any changes. The sensor inside the tyres will thus offer a real-time insight. Every Saturday, 5 or 6 of our employees are on the road, doing nothing other than checking tyre pressure. In a few years, we will be able to do this remote thanks to the emergence of sensors."