Truck tyres at Heuver: large stocks, competitive prices and fast delivery
Truck tyres, wheels and tyres mounted on rims - Heuver is a total supplier and excels on all fronts. Our service knows no bounds. Because we try to do our best for customers each and every day. Our fast delivery and effective service allow you to do business quickly and conveniently.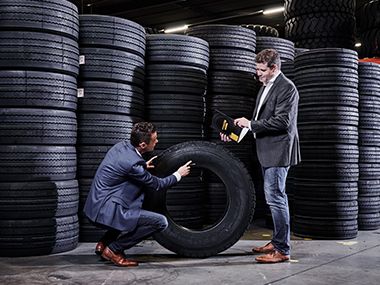 Total supplier
Whether it involves tyres for drive axles, steering axles, trailer tyres or winter tyres: we deliver tyres quickly so you never have to refuse your customers. We also work hard every day to further enhance our position as total supplier in the truck segment. You want certainty, and that's what we can offer. In addition, we also purchase in bulk, which is reflected in our competitive prices. These are the core values that Heuver Tyrewholesale offers you as standard, because 'Our Drive to Succeed is Your Benefit'.
Competitively priced, ample stocks
That is why our comprehensive range features an extensive collection of tyres by leading brands as well as our exclusively imported in-house brands. Naturally, leading brands like Pirelli, Bridgestone, Michelin, Continental, Dunlop, Hankook and Goodyear are also available from stock. The same applies to our in-house brands Aeolus (which is a top European performer and can be found on many wish lists in the meantime) and Barkley (which has become very popular in many European countries within its first two years). We are also proud to offer Pirelli truck tyres from stock, which means we can guarantee top quality at a very competitive price. Our comprehensive range allows us to meet all needs. Our customers can be sure of this and are already accustomed to 100% certainty - in terms of quality, price, stocks and fast delivery.
For more information about truck tyres, sizes and types, please visit the dedicated Aeolus website.
We can offer you:
Choice of many brands, sizes and types in our 43,000 m2 warehouse
Truck tyres in all price segments
Comprehensive range of Athlete rims
Expert advice from our experts
Fast delivery within Europe