Which rim accompanies a specific truck tyre?
Selecting the best truck tyre is one thing, but how do find the most appropriate rim? After all, you want to avoid situations where the rim is unable to bear the load you are transporting. Or where the tyre stretches or vibrates because it does not fit properly on the rim. Maurits Bloem is our Product manager Truck tyres. He will be pleased to tell you which rim best suits each specific tyre.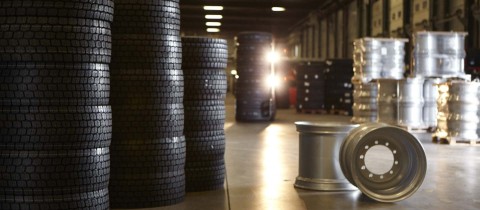 Dimensions, vehicle type and position
"In the end, it all depends on the dimensions. The size of the tyre plays a major role in determining the appropriate rim. We then look at the type of vehicle on which the tyre will be mounted as well as the axle position. Markings on the rims are specific references to these factors. For instance, each position on the vehicle comes with a specific type of rim."

What type of brakes does the vehicle have?
"Brake components on the vehicle axle also play a role when determining the best type of rim. After all, disc brakes and drum brakes have different properties, so the rim must be adjusted accordingly. It is thus important to pay attention to this when selecting an appropriate rim. This is not always immediately visible in available information, so please feel free to ask us for advice."

Different for each type of truck
"Each truck brand, and even each individual truck type, has its own specific properties. So very close attention must be paid when selecting an appropriate rim. The rim disk is always located at a slightly different position, which we refer to as the ET value. These letters stand for 'Einpresstiefe'. The lower the rim's ET value, the further the wheel will protrude from the mounting pad. We like working with our customers to determine the best rims for their specific situations."
Check out the 'recommended rims' and 'permitted rims' sections in our tyre handbook and our webshop to see which dimensions are available. Naturally, the final choice will always be yours!