Aeolus AE77 quickly successful in replacement and OEM market
Barely two years on the market and already in high demand: the multifunctional Aeolus AE77. This powerhouse has established a foothold in the replacement market and is often selected in the OEM market for use on new – possibly powered – agricultural vehicles and machines. The on and off-road-compatible AE77 is also very suitable for use in forestry and on heavy-duty fire brigade vehicles. The Aeolus AE77 is available in sizes 24R20.5 and 445/65R22.5; both are suitable for speeds up to 80 km/h. However, size 525/65R20.5 will also be available soon.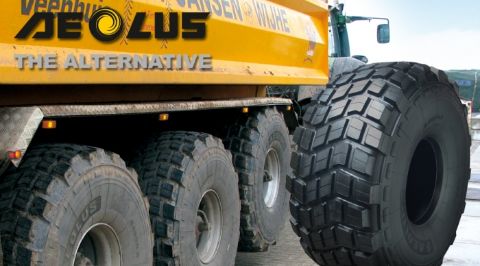 Impressive speed and load index
"The success of the AE77 can be attributed to its excellent price/quality ratio and its specifications, which make it a real bonus for businesses and transport companies", summarises Bertus Heuver, director Heuver Tyrewholesale. "The tyre has been able to claim a strong position in a very short time frame. And this includes increasing agricultural use in the OEM market on harvesting, fertilisation and transport vehicles. Users are primarily impressed by the tyre's versatility. One of the main advantages is the speed limit of up to 80 km/h and the load capacity of up to 7,100 kg. This greatly expands its possibilities for use. The AE77 once again proves that Aeolus is The Leading Alternative."
For more information about agricultural tyres, sizes and types, please visit the dedicated Aeolus website.
Major advantages in the OEM market
The AE77 series has been specifically designed to offer robustness, reliability and resistance to wear. The tyre has a broad tread and flexible but stable sides, which reduce impact on underlying soil. The AE77 is also suitable for tread renewal. Bertus Heuver: "While size 24R20.5 has been available from the outset, the new 445/65R22.5 has been an immediate hit. Several manufacturers of agricultural equipment are currently placing the tyres on new machines. This shows how much confidence they have in the tyre. The reliable powerhouse offers major advantages and a good price/quality ratio. We will also be adding size 525/65R20.5 to our range very soon."