Agritechnica 2019: Heuver proves specialisation in agriculture
Heuver will be using Agritechnica 2019 in Hannover (10-16 November, hall 3, B12) to demonstrate why it is a true agriculture specialist.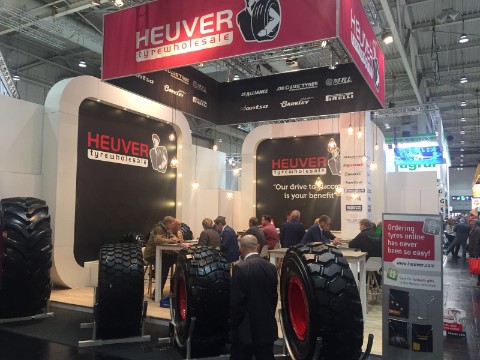 -PRESS RELEASE- There will be a huge range of agricultural solutions, which visitors can experience in a variety of ways. For instance, many new agricultural tyres will be on display, by brands such as Aeolus, Alliance, Barkley, MRL, Galileo and Pirelli. But visitors can also use VR goggles to fully appreciate the massive stock of tyres at the warehouse in Hardenberg.
Many new agricultural tyres
Heuver has specialised in agricultural tyres ever since it was founded in 1966. In the meantime, the company has developed into a real total supplier that offers many high quality brands. This includes exclusive in-house brands like Aeolus, Barkley and Galileo, but - of course - also renowned brands like Alliance, Michelin, Trelleborg and Pirelli. "So the largest agricultural fair in the world is a must for us", says Enno Schottert, product manager Agricultural tyres at Heuver. "And we will be sharing a lot of new solutions with visitors. Like the Alliance 398 MPT, which was crowned with the silver Agritechnica Innovation Award. But this also includes the Aeolus AE21, which is a robust new all-terrain tyre, and new sizes in the Aeolus AE74, Barkley BLF01 and Pirelli PHP. Naturally, they are all available from stock and can be ordered online in no fewer than 11 languages."
Virtual tour of the warehouse
One of the great attractions to the stand will be a set of VR goggles, which visitors can use to go on a virtual tour of the massive warehouse in Hardenberg: "This never fails to impress people, as we saw earlier this year in Munich", says Enno. "Our customers do not always realise what we mean when we say that we have huge stocks and can deliver quickly. But the VR goggles now allow them to see it all for themselves. This once again proves why we are a true specialist in agricultural tyres."