Heuver raises € 43,500 during #SamenvoorKarin
- PRESS RELEASE - On the 19th of June, the sport event #SamenvoorKarin took place on the grounds of Heuver.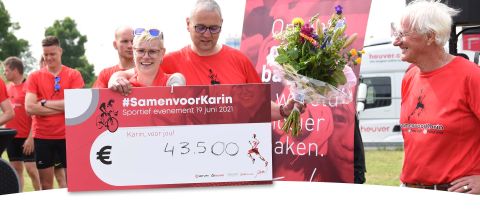 During this sponsored event, the colleagues from the family business in Hardenberg came together en masse to support the wife of their colleague Alex van der Haar. The aim was to cover more than 1,000 km together and, with 1,655 km, this was more than achieved.
Top athlete wants her freedom back
Karin van der Haar is a former Paralympian who knows what it's like to fight. She suffered a brain haemorrhage at the age of 42 and as a result, her right arm is now paralysed. Because she lost her left arm in an accident at the age of 16, an adapted car is her only option to regain her freedom. A lot of money is needed for such an adapted car, namely €60,000. A crowdfunding campaign has already raised € 12,000 for this, but other campaigns have been launched for Karin, including that of Heuver. The colleagues - in close cooperation with the Jan! Foundation - also collected €4,500 with an earlier campaign.
Colleagues stand up for a real go-getter
Jan Heuver, of the Jan! Foundation: "If I had to characterise her personally, it would be that she is a real go-getter, a fighter, an inspirer, who wants to continue to be part of society. She wants to inspire companies with her modified car and show them that they should not throw in the towel and that they should learn to cope with setbacks. In short, she is an inspirator pur sang. Her top-class sports mentality certainly plays a major role in this. That is precisely why we at the Jan! Foundation and the colleagues of Alex van de Haar have joined forces for this very reason: someone like Karin, that's what we do it for! "We proudly look back on a beautiful, sunny and sporty day, in which the target amount of € 60,000 for the purchase of the adapted car was realized."