Royal honour for Jan Heuver
-PRESS RELEASE- An excuse was used to lure Jan Heuver, director at Heuver Tyrewholesale, to the De Voorveghter theatre in Hardenberg. During the traditional ticker tape celebrations on the eve of King's Day, he was awarded with the royal title of Knight of the Order of Orange-Nassau. He was awarded the honour for his many achievements in various local, regional and national organisations.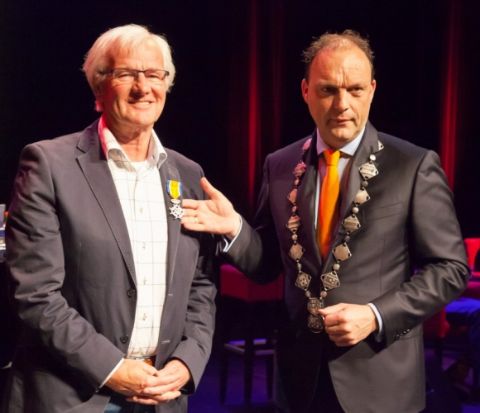 Very meaningful
On the eve of King's Day, which is the day for traditional ticker tape celebrations, Jan Heuver was awarded the adornments that accompany the title of Knight of the Order of Orange -Nassau by the Lord Mayor of Hardenberg. He was awarded this honour for the service he had provided to so many organisations. From a professional perspective, he played an important role in CLA's for the wheel and tyre sector, was a supervisory director at Euro Terminal Emmen-Coevorden-Hardenberg and a member of the board at Industriële Koepel Vechtdal en Bedrijvenpark Broeklanden. He also helped to found the business club at football association HHC Hardenberg and is chairman of the tennis club.
Social engagement
But Jan Heuver's social engagement was also given a specific mention. He collaborated with the Baalderborg Groep in order to encourage more active lifestyles for people with a handicap and the elderly. And, via the Diocese of the Protestant Community Hardenberg-Heemse-Radewijk, he also became the driving force behind an orphan project in Kafoutine after a boat tragedy in Senegal, which also claimed the lives of two youngsters from Hardenberg.

Jan also supports the Home of Hope & Dreams foundation which constructed an orphanage in Uganda under the leadership of Hardenberg-based Gini Pullen. This involves him calling upon people from society, and his own company, to go lend a helping hand in Uganda. Finally, Jan also supports the Marianne Center foundation, which is building accommodation for handicapped children in Kenya.
Totally unexpected
Jan Heuver about his honour: "Of course, they lured me to the De Voorveghter theatre with some excuse. But the thought of a title hadn't even crossed my mind. It was totally unexpected, but what a real honour. And there were also so many nice words. I will always cherish the moment, and it's great to be appreciated this way with a royal title!"