The importance of good crane tyres
Tyres for mobile cranes are subject to many strict requirements in order to guarantee both their quality and safety. They must perform well on muddy ground and rough building terrain and be safe and reliable for use on the public highway.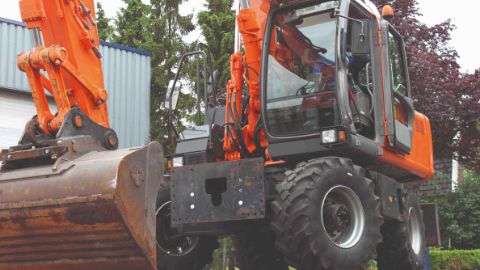 A crane tyre must have a deep, preferably self-cleaning profile, which can grip well in different circumstances. Hence these should be manufactured from excellent quality rubber and other constituents. The versatile profile is therefore suitable for pulling both forwards and backwards. A solid flat running surface and reinforced sidewalls contribute even more to the stability of the crane.
Re-treaded tyres
These properties don't only apply for new tyres. Retreaded tyres are also highly suitable for various applications. The casing should obviously be in perfect condition. The crane tyres from our own brand, Tracmaster, are subjected to a rigorous testing so that we can guarantee a perfect quality. The casings are provided with a new running surface by means of full shape vulcanisation. The result is a unique crane tyre, suitable for a wide range of applications. The tyres can also be filled with polyurethane, so that they can be used in demolition projects.
The main advantage of this Tracmaster is its very attractive price.