Unique bus tyre added to Aeolus NEO series
- PRESS RELEASE - Heuver's in-house brand continues to innovate with the 275/70R22.5 NEO Urban D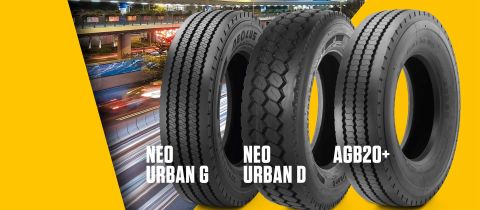 Aeolus has been Heuver's in-house brand ever since it was introduced to Europe in 2004. This can primarily be attributed to the quality of the tyres and the effective product development. The perfect example of this is the new 275/70R22.5 NEO Urban D, which is a unique bus tyre for drive axles.
Specially developed for drive axles
The 275/70R22.5 Aeolus NEO Urban D is the latest addition to the Aeolus NEO series. The new tyre is immediately available via Heuver. "It has been specially developed for drive axles on buses and ensures extra traction when it is really needed", says Jeroen Vos, Product manager Aeolus. "This exceptional tyre is ideal for mountainous regions and places where a lot of snowfall is encountered. For instance, on slippery climbs where standard tyres tend to struggle. The NEO Urban D is a lot better at dealing with such situations. That is one of the main advantages of having a special drive-axle tyre rather than an all-position tyre."
The complete range of Aeolus bus tyres:
275/70R22.5 NEO Urban D
275/70R22.5 NEO Urban G
295/80R22.5 NEO Urban G
305/70R22.5 NEO Urban G
11R22.5 AGB20+
265/70R19.5 AGB23
> Discover all NEO Urban tyres
Jeroen Vos: "This allows us to offer a complete range of tyres for city buses, in a variety of sizes and patterns. But the range will be expanded even further because the AGB23 265/70R19.5 will also be appearing soon. This bus tyre has reinforced side walls and is perfect for the new generation of compact city buses. We will tell you more about it in a few months' time."
Top quality, no matter what
"We are proud of the strong position that Aeolus has claimed in the market in recent years", says Jeroen Vos. "That is why we want our customers to know that the Aeolus NEO series is becoming more comprehensive and impressive. The advantages of Aeolus tyres - their price/quality ratio and, as a result, improved returns – should be further reinforced with the NEO series. The tyres are exactly what European customers are looking for. Technology continues to develop and the latest insights have been incorporated into these new tyres. In addition, Aeolus tyres are manufactured under patent and know how license from Pirelli, which means they have proven their top quality. They always perform, no matter what."