Heuver is the full-service OTR specialist
- PRESS RELEASE - With new and more than 1,000 used earthmoving tyres, Heuver is the full-service OTR specialist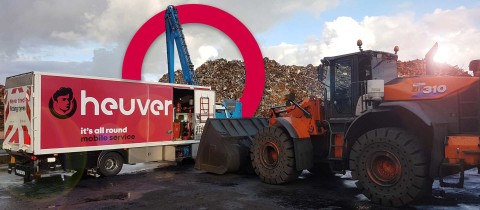 Heuver offers the most extensive range of earthmoving tyres in Europe. In every size and type, both new and used. The latter can be called special, as there are not many suppliers who take in, assess and resell used tyres and rims. Skilled OTR specialists help the customer with any question on new and used tyres, on trade-in casings and on retreaded tyres. Heuver continues to invest in its range and service, with the recent purchase of its own solid tyre press being a good example.
Complete service without limitations
Product Manager Bert van 't Holt: "If one thing is clear, it is that customers are central to us. We achieve this with a dream team of professionals and with a balanced product range, a rock-solid stock position and favourable delivery conditions. The OTR market is one of our strong pillars. We achieve this by offering the most complete service, without limitations. Whether it's new tyres, retreaded tyres, used tyres or casings, we help the customer with every question. In short, we have or find the tyres that customers want. That is what counts in the European and global OTR market. We want to keep this name alive and we work very hard at it every day.
Versatile range for every budget
Heuver has been a specialist in all types of OTR tyres for years. The company supplies all brands and sizes for all applications and successfully buys tyres all over the world. Customers are not given a 'no' answer; that does not fit in with the Heuver philosophy. They can come to Heuver for all brands and types of new tyres, but also for retreaded tyres and trade-ins. In 'used' there is a large range, while casings can be traded in, with the best being selected for reuse. Heuver has one of the largest stocks of EM tyres, from premium brands (such as Bridgestone, Goodyear or Michelin) to its own high-quality import brand Aeolus or Triangle. Heuver has its own OTR team, with specialists who are happy to provide advice, and customers can also place orders 24/7 on the website.
More than 1,000 used EM tyres in stock
Sometimes opting for used tyres can be an even more cost-effective option, for example in the case of older machines which will not be in use for long. In that case, a used tyre can still offer sufficient performance until the machine is completely written off. Bert van 't Holt: "We have more than 1,000 used tyres in stock. A total overview of this stock can be found on our website.