Truck wheel rims by Athlete Wheels successful at Heuver Tyrewholesale
As a comprehensive supplier of truck and trailer tyres, Heuver Tyrewholesale is always further expanding its range. A good example of this was the introduction of the completely new line of truck wheel rims by Athlete Wheels at the end of 2011. Athlete Wheels allow Heuver to be even better in meeting the demands of tyre specialists, who are in great need of high quality truck wheel rims with a competitive price/quality ratio. Athlete Wheels are manufactured for the truck segment in all sizes and formats.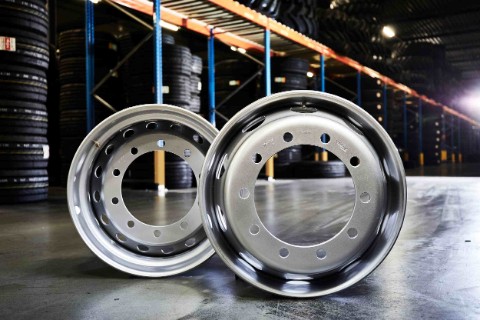 Appealing alternative
"Athlete Wheels are manufactured in China's leading wheel rim factory", says Bertus Heuver, director of Heuver Tyrewholesale. "Each year, it manufactures more than 15 million steel wheel rims in 500 different designs. Naturally, all wheels are TüV-approved and comply with ISO9001 certification. We are convinced about the quality of Athlete Wheels, which has been supported by various major trailer constructors in Europe purchasing these wheel rims in 2012. In the meantime, Athlete Wheels has become our own brand and is supplied throughout the world in all sizes and formats. We have at least 6,000 wheel rims in stock at our 24,000m² warehouse, which allows us to deliver quickly to the European market. To offer even better service to tyre specialists, we offer them the opportunity to mount truck tyres on Athlete Wheels and to have them delivered ready for use."