Patterns and ridges on agricultural tyres
The contact surface of a tyre determines its traction when off the road. That is why most agricultural tyres feature ridges; they do all the work. But this is not the case for all tyre types. The purpose determines whether tyres are appropriate. Enno Schottert, Product manager Agriculture at Heuver, explains the various profiles available for agricultural tyres.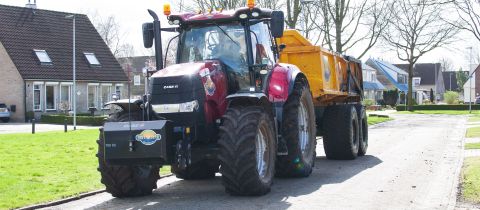 Ridged tyres
If people mention tractor tyres, they tend to have standard ridged tyres in mind. These ridges are normally placed on tyres in a V-shape, which also clearly indicates the driving direction during assembly. This V-shape ensures the traction and self-cleansing capacity of ridged tyres.
A tip from Enno Schottert: "If there is irregular wear on the front tyres of a tractor due to fluctuating loads on the steer axle, we sometimes recommend mounting the front tyres in the reverse direction for transport activities on the road. They then balance themselves out and get a regular pattern again. We sometimes also recommend reverse assembly on towed axles, because this makes tyres less grippy. But this is only possible in the soil, and not in green fields, otherwise they can be too aggressive."
Road tyres
The name gives it away: road tyres are intended for tractors that mainly drive on roads. They thus have a completely different tread than other tyres. They are not ridged tyres; more like blocked tyres. There is a large and flat contact surface with the road, which reduces wear when driving. Of course, the other difference is that road tyres can always drive with the same pressure.
Special tyres have even been developed for situations where you drive off the road and also on the road. And we have identified exactly what you must pay attention to in such cases. More information can be found in the following article: Agricultural tyres on the road. As you can see, Heuver is exactly where you need to be for all information and suitable tyres for any purpose!