This is how you reduce your soil compaction with tractor tyres
Soil compaction is an important term in the farming business. This is something you must minimise because it means lower yields come harvest time. Using the right tyres in the right manner helps to reduce soil compaction by reducing the pressure placed on the soil.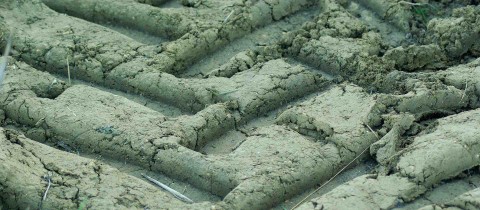 What is soil compaction?
Healthy soil consists of earth, air, water and other organic matter. Track-forming due to heavy machines or high tyre pressure disturbs the balance between these factors. And this results in soil compaction: a reduction in soil quality. Of course, you want to avoid this wherever possible. And you want to keep the soil as healthy as possible and maximise the yield from your land. We will help you achieve this with tips and advice.
Larger contact surface = less soil compaction
Lower tyre pressure helps to increase the contact surface. Certain tyres can be very useful on this front. For instance, wider tyres with a large air chamber.
If a tractor features standard tyres (e.g. 520/85R38) and creates excessive track-forming, you can opt to mount wider tyres like the 650/65R38. This will help to decrease the pressure placed on the soil. After all, tyre pressure and air volume determine the load-bearing capacity of a tyre. And lower pressure can be realised by increasing air volume, because both factors are always inter-related.
Speed and load are decisive
Which tyres must you use, with which pressure and in which situation? This is a very frequently asked question, explains Enno Schottert: "When this happens, we ask several questions in return so we can offer a suitable answer. At what speed, and with which load, does the machine drive? If you do not work with a tyre inflation system, we must know the maximum speed and load to say which pressure you should adopt in order to reduce soil compaction."
Tyre inflation system
If you use a tyre inflation system, you can always use your tyres in the most efficient manner. Many of our customers use this system and have positive experiences with it. You can thus drive with low tyre pressure when off the road, thus keeping soil pressure as low as possible. When you need to drive on the road, you can easily and automatically increase pressure again to optimise fuel savings and reduce wear and tear. This results in extra efficiency. Interested in a tyre inflation system? We do not supply them ourselves, but can put you in touch with a reliable supplier.
IF, VF and CFO/CHO tyres for lower pressure
Various types of tyres are available that can help to reduce tyre pressure while still working with the same load. We have offered an overview and have explained the differences, so you can select the best tyres for your situation when, for example, preparing or fertilising the soil. IF and VF tyres are becoming very popular and people that use them are convinced of the efficiency. Does that include your customers?
Improved Flexion (IF)
Lower tyre pressure, while keeping the same load capacity? That's possible with IF tyres. If the load remains the same, these tyres can be used as standard tyres with the same format, but with 20% lower tyre pressure. This offers you better resistance against soil compaction.
Yet another advantage: the tyre pressure of IF tyres is not influenced by driving speed. This is not the case with a standard tyre. A standard tyre is subject to a three-way relationship between: load per tyre in kg, speed in km/h and air pressure. If you drive at a higher maximum speed with the same load, then you must also modify the tyre pressure. This isn't necessary with IF tyres, which is a major advantage.

Very High Flexion (VF)
Need more than the 20% lower tyre pressure offered by IF tyres? Then you can also opt for VF tyres. If the load remains the same, these tyres can drive at 40% lower tyre pressure to offer the surface an even better protection. Just like IF tyres, the tyre pressure of VF tyres is also not influenced by the speed. However, it is wise to increase pressure when performing transport work for long periods of time.

Cyclic Field Operation / Cyclic Harvesting Operation (CFO/CHO)
CFO/CHO tyres are often used for harvesting machines like combines or beet harvesters. Mainly machines with a low working speed, high peaks in loads and large variations in loads. If the load follows a curve pattern, then CFO/CHO tyres are the perfect solution.
For example: a beet harvester drives to the field empty; it starts harvesting and the bunker slowly starts to fill up. A short distance is then travelled, after which the bunker is emptied in order to repeat the whole process. CFO/CHO tyres have been developed for such cycles.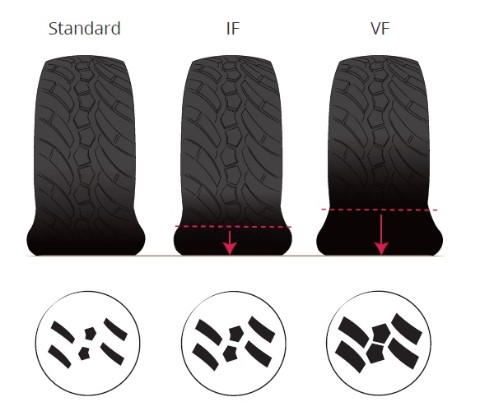 Summary:
IF technology = Improved Flexion
Up to 20% lower tyre pressure at the same load or up to 20% more load-bearing capacity at the same tyre pressure.
VF technology = Very high Flexion
Up to 40% lower tyre pressure at the same load or up to 40% more load-bearing capacity at the same tyre pressure.
Improved Flexion Cyclic
Field Operation / Cyclic Harvesting Operation
IF tyres for cyclical loads