Choice between radial and diagonal tyres determined by use
Manufacturers design and build OTR machines based on the conditions encountered in their deployment areas. However, they also require specific types of tyres. As a result, slightly different versions – depending on the type of machine and where it is used – can be needed in practice.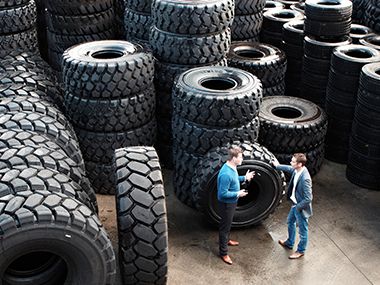 We love transparency and like to share our knowledge. That's why we are pleased to explain the main technologies as well as the letters featured on OTR tyres. You can then use this knowledge to quickly determine which type of tyre best suits your specific situation.
The main thing you have to decide is whether you need a radial or a diagonal tyre. Thus a tyre where the casing features radially applied strips – placed transversely across the tyre's curves- and an extra tread-stabilising belt, or a tyre with strips that are (only) placed diagonally over each other without a stabilising layer.
The choice between radial or diagonal tyres is mainly determined by the type of work and the type of surface. The main differences are:
| | |
| --- | --- |
| Radial tyre | Diagonal tyre |
| Excellent off-road traction | |
| | High self-cleansing capacity on silt and clay surfaces |
| | Good side-wall protection against damage |
| High resistance against tread incisions | |
What does each letter stand for?
Naturally, the letters we see on OTR tyres all have a specific meaning. To see what they mean for each type of machine, please see the following articles on our website: OTR and industrial tyres per vehicle type and TRA coding offers transparency.
Here are some other letters that provide information about tyres (the markings were originally in French, as you can see between brackets):
T = traction (traction)
R = rock and stone (rocher)
V = speed (vitesse)
F = flotation
P = versatile (polyvalent)
S/R = flat / rock and stone (lisse / rocher)