TRA code and Star rating
The internationally standardised TRA code can be used to select appropriate OTR tyres for all machines. This immediately tells you for which type of machine and purpose tyres can be used.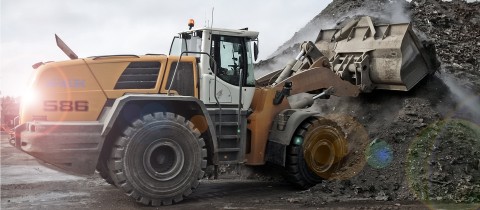 Fixed codes
A TRA code always consists of a letter that is followed by a number, although this number is sometimes also followed by another letter. The first letter indicates for which type of machine the tyre can be used. The next digit indicates the tyre's tread depth. If this is followed by a third digit, it will say something about the tyre's pattern and the purpose for which the tyre is best suited.
The TRA code is recognised as an international benchmark and is validated by the ISO (International Standard Organisation), the ETRTO (European Tyre and Rim Organisation), the TRA (Tyre and Rim Association) and the JATMA (Japan Automobile Tyre Manufacturers Association). These organisations have defined four types of OTR tyres - based on their purpose - and industrial tyres. The designated category can be found on the side of the tyre. The types in question are found below; and are reflected in the first letter(s) of the TRA code:
C = Compactor (road-building machines and steam rollers)
L = Loader/Dozer
G = Grader
E = Earthmoving (transport; scrapers, articulated and rigid dump trucks)
IND = Industrial (port)
The following digit represents the tread depth:
2/3 stands for 100% tread depth
4 stands for 150% tread depth
5 stands for 250% tread depth
Finally, if this is followed by another letter, this will say something about the tyre's pattern:
T stands for 'Traction'
These tyres have a fairly open pattern, which offers very good traction.

R stands for 'Rock'
These tyres have a more closed pattern, which means they offer less traction, but are less susceptible to cuts.

S stands for 'Smooth'
This means the tyres do not have a pattern (also referred to as slicks). These tyres offer little to no traction, but offer very high resistance against cuts.
Differences between E and L tyres
E and L tyres have a different load/speed index. This is something you should bear in mind when making your choice. In addition, L tyres cannot exceed a cycle of e.g. 200 metres, otherwise too much heat is generated and they become way too hot. In contrast, E tyres are often heat resistant and can deal with heat more effectively.
Some tyres in the OTR segment feature an E code as well as an L code (e.g. E3/L3). They are also referred to as 'multi-star tyres' and are ideal for loading and transport vehicles.
This means graders have their own specific tyres, but can also feature both E and L tyres.
When should you use each tread depth?
You can opt for E3 or E4 tyres when performing transport activities. E5 tyres do not exist because this tread depth and high speed would cause a lot of heat to be produced, which would become too much for the tyre to deal with. When performing loading activities, you can choose between L3, L4 and L5 tyres.
The area in which tyres are used determines the tread depth you should be using. For example, if you are using a dump truck in a quarry, we recommend an E4 pattern for extra protection. If you use L tyres, but the cycle is too long for an L5 tyre, you should use an L4 tyre so a longer cycle is possible.
The surface also plays a major role in the type of tyre you should choose. For example, tyres with 100% tread depth, and a traction pattern, are used for sand and asphalt surfaces. However, if the surface is more aggressive (stones/rocks), people often prefer tyres with 150% or 250% tread, and a more closed pattern.
A snapshot of the 4 different basic patterns
Various area-specific patterns are available. These patterns have been designed to offer effective traction and terrain compatibility (flotation), and are able to resist damage, cuts, heat and wear & tear. There are four basic patterns for OTR tyres.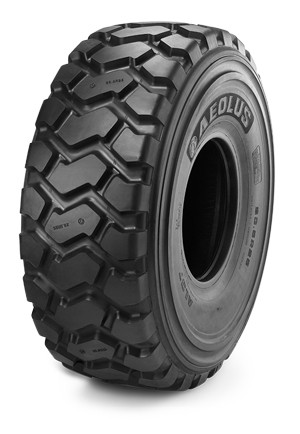 Traction pattern
OTR tyres with a traction pattern are often directional tyres. This means that during assembly, it is important to make sure that the tyre/wheel combination is mounted in the correct direction on the vehicle. The pattern structure of these tyres results in very good traction. In addition, it is very important for tyres with a traction pattern to have high self-cleansing properties, to make sure traction is not lost.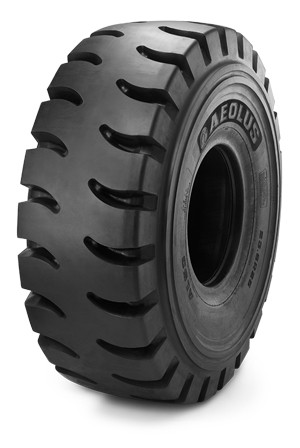 Rock pattern
Robust tyres with this pattern are used in very demanding circumstances. Often on rocky surfaces where extra protection is needed against damage and cuts. The pattern is made from a rubber compound that is extremely robust. These types of OTR tyres are characterised by S-shaped (zig-zag) pattern rows and grooves, They are located on the left-hand and right-hand side of the tread, meaning against the driving direction.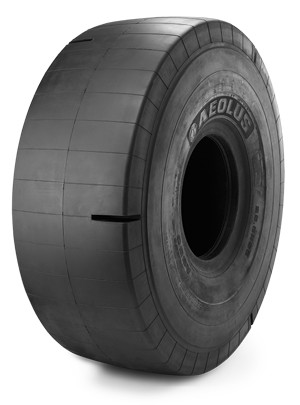 Without pattern (slick)
As the name suggests, pattern-free tyres do not feature grooves or notches, apart from two narrow grooves on the shoulder to indicate the level of wear. Such tyres offer maximum resistance against wear and incisions. They are often used on steam rollers in road building, when smoothing and/or flattening surfaces. They are also regularly used on loaders in the (underground) mining industry because they offer high resistance against damage and excellent robustness.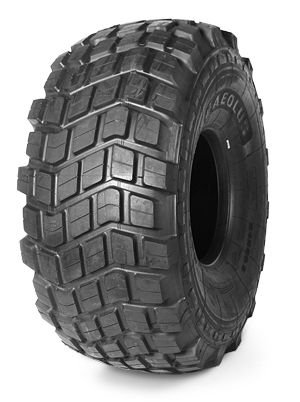 Block pattern
OTR tyres with a block pattern are characterised by relatively wide tread depth and rounded shoulders. Because blocks are equally spaced and positioned in rows, the advantage of block pattern tyres is that they create a relatively large contact area. If heavy loads must be transported, these tyres keep pressure on the ground relatively low and help to maintain flotation qualities. These tyres are ideal for use on soft, muddy surfaces. We regularly see these tyres mounted on crash tenders in size 24R20.5.
Overview of TRA codes
| | | |
| --- | --- | --- |
| Code | Profile | Use |
| C1 | Smooth | Compactor |
| E1 | Ribbed | Earthmover, transport |
| E2 | Traction | Earthmover, transport |
| E3 | Rock | Earthmover, transport |
| E4 | Rock (deep tread) | Earthmover, transport |
| E7 | Flotation | Earthmover, transport |
| G1 | Ribbed | Grader |
| G2 | Traction | Grader |
| G3 | Rock | Grader |
| G4 | Rock (deep tread) | Grader |
| G5 | Rock (very deep tread) | Grader |
| L2 | Traction | Loader, dozer |
| L3 | Rock | Loader, dozer |
| L4 | Rock (deep tread) | Loader, dozer |
| L5 | Rock (very deep tread) | Loader, dozer |
| L3S | Smooth | Loader, dozer |
| L4S | Smooth (deep tread) | Loader, dozer |
| L5S | Smooth (very deep tread) | Loader, dozer |
Star rating indicates load capacity
The number of stars on an OTR tyre indicates the tyre's load capacity. This is also linked to the TRA code. Both these factors jointly determine the purpose for which tyres can be used.
| | |
| --- | --- |
| Stars | Machine/purpose |
| 1* / 2* / 3* (strength) | Loader and bulldozer (L) |
| 2* / 4* (speed) | Transport (E) |
| 3* (combination) | High speed/Industry (IND) |
| 1* / 2* (strength) | Grader (G) |