OTR and EM tyres: how to choose the right tyre
Earth-moving tyres (OTR – off the road) is a collective name given to tyres used on large machines. Such machines are mostly used in the construction, road-building and mining industries, where hardened roads are few and far between. These circumstances place extra demands on resistance, grip and durability. But profile depth is also important and can be selected separately (depending on the area of deployment).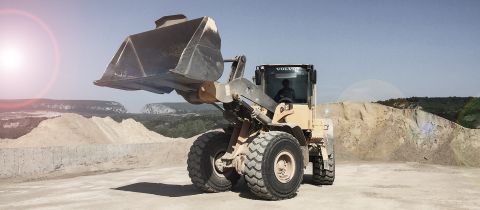 Tyre suitability is determined by the circumstances to which machines are exposed. In general, three factors are involved when selecting tyres: Machine, Deployment and TKPH (TMPH).
For which machine do you use the tyres?
Although it may sound obvious, we think it is worth mentioning: the type of machine determines tyre suitability. For what is the machine being used and which requirements must the otr tyres meet? What are the factory specifications for tyres (size or sizes) and permitted loads, and how fast can the machine drive? The next step in selecting appropriate tyres can only be made once these details have been identified. Technical specifications, the purpose, length of use and the under-surface determine the most suitable tyre.
What work is the tyre used for?
The purpose of the tyre can be determined by the area where the tyre is used and the loads to which it is exposed. Important criteria include surface, grip and twisting and turning. These details in turn determine the rubber composition, profile type and profile depth. In this case, a distinction is made between normal tyres, tyres able to resist incisions and heat-resistant tyres.
It is very important for selected OTR tyres to match the activities and surfaces for which they are intended. Normal tyres offer effective universal performance under standard conditions.
If there are a lot of obstacles, which could result in damage, then it would be best to opt for tyres capable of withstanding incisions. Heat-resistant tyres are ideal for use on good surfaces, where above average speeds are realised. The more accurate the tyre choice, the better the machine performs.
Bearing capacity in relation to heat generation
Finally, TKPH (TMPH) or Ton Kilometres (Miles) per Hour, plays a major part in the choice of tyre. Identical tyres in terms of profile and size may actually have a different rubber mix, which is determined by the individual TKPH.
This figure is determined by the load of the concerned tyre size and how many kilometres per hour it can realise, and is based on a standard environment temperature of 38oc.
Pattern overview OTR
Each tyre brand has its own patterns for each type of vehicle and purpose. But which type of tyre by the various tyre brands is suitable for each specific purpose and vehicle? This can be quite confusing. But to make things easier for you, we have made the pattern overview below to offer an insight into the most commonly used patterns by premium brands as well as our in-house brands. This means you immediately know which OTR tyres you require.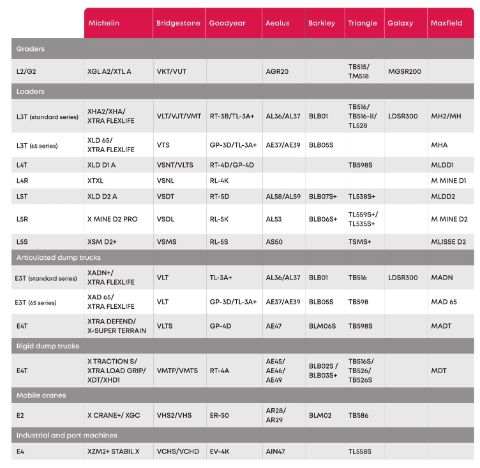 In general, therefore, the type of machine, the nature of the work and the condition of the terrain determine which tyre to choose. Formulas can be used to calculate the approximate lifespan - ton-mile-per-hour - and deployability - 'work capability'. But with the wrong choice of tyre, the job does not go smoothly, costs unnecessary money and can also be dangerous. So it always pays to have our product experts advise you.
On the left-hand side of the table you will see the so-called E3/L3, E4, L5 and many more. This allows you to see at a glance which application area the tyre is suitable for. These profiles are further explained on the page about TRA code and Star rating.
Various area-specific profiles are available. These profiles have been designed to offer effective traction (grip) and terrain compatibility ('flotation'), and are able to resist damage, incisions, heat and wear & tear. There are four basic profiles for earth-moving tyres:
Rock profile;
Traction profile;
Block profile;
Without profile (slick).
Rock profile
Tyres with this profile are used in rocky surroundings, where extra resistance against damage and incisions is required. This gives tyres a large and very durable contact surface.
These types of earth-moving tyres are characterised by S-shaped (zig-zag) profile rows and grooves, which go from left to right on the tyre, thus perpendicular to the driving direction.
This profile type, which is non-directional, has another version with extra contact surface: the linked rock profile. In this case, the S-shaped profile rows are connected to each other along the centre line of the tyre. This version is thus more robust and subject to less wear & tear. In general, both versions are the two most popular profiles for earth-moving tyres.
Profile thickness/Profile depth According to the international guidelines of the TRA, there are 3 general classifications for profile thickness and depth. They are: regular profile, deep profile and extra deep profile.
Deep profiles are an average of 1.5 times thicker than normal profiles; extra deep profiles are 2.5 times thicker than normal profiles; the latter thus indicates standard thickness. The thicker the profile, the more effective it is at resisting incisions and damage, and the greater its durability (sustainability).
Overview of the possibilities:
Extra deep profile: L-5, L-5S
Deep profile: E-4, L-4, L-4S
Standard profile: E-2, E-3, G-2, G-3, L-2, L-3
Traction profile
Earth-moving tyres with a traction profile are always directional tyres. Therefore, it is important to pay attention to assembly when mounting them on wheels. The profile structure of these tyres results in very good traction.
Block profile
Compared to other earth-moving tyres on the market, earth-moving tyres with a block profile generally have a relatively large profile width and (more) rounded shoulders. The advantage of a block-profile tyre is that equally distributed or row-based blocks result in a relatively large contact surface. If heavy loads need to be transported, this only places relatively low pressure on the ground and flotation qualities remain intact. This tyre is ideal for use on soft, middy ground.
Without profile (slick)
As the name suggestions, tyres without a profile do not have any grooves, indentations, etc. other than the two narrow grooves on the shoulder, which serve as indicators for wear and tear. Such tyres offer maximum resistance against wear and incisions, and are often used in road-building when smoothing and/or flattening surfaces or when rolling roads. They are also used on wheel loaders in the mining industry because they offer high resistance against damage and excellent robustness.