Improved safety, better handling, higher efficiency
It's one of those difficult to answer questions: when do I place winter tyres on my fleet? And is it actually necessary?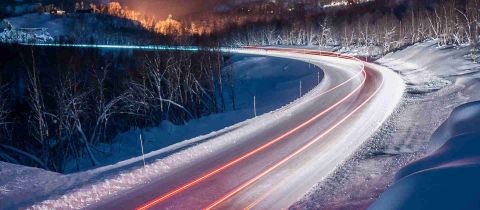 We will be pleased to shed some light on the matter: many European countries have rules when it comes to driving in the winter. And winter tyres are even mandatory in some countries. So, as an (inter)national transporter, it is good to know which these countries are because it will help you to avoid fines and delays.
A lot more certainty
You want to deploy your trucks in a reliable and cost efficient manner, certainly in the winter. Goods must arrive safely; this is important for you as well as your customers. Are your trucks on time? Without accidents or damage? Because every minute of unnecessary delays costs a lot of money. Winter tyres make things so much easier for you in the winter. But also safer and faster.
Advice
Even if winter tyres are not mandatory or are only recommended, Heuver advises fitting winter tyres on every truck and bus axle. This will help you to realise effective traction, better road safety and effective driving stability on wet, snowy and icy roads. For an overview of rules in the main European countries, please download the PDF below.
Categories
Tyres you can use safely in the winter can be divided into two categories:
Manufacturers use the M+S marking (Mud + Snow) on tyres to indicate they have a pattern or structure that allows them to perform more effectively in snow than standard tyres. A lot of tyres in our fixed range, including our own important brands Aeolus and Barkley, are M+S tyres. The M+S marking is not accompanied by an extra testing criterion.
If you see the mountain pictogram and snowflake symbol (3PMSF), the tyre in question will offer proven high performance when it comes to safety, handling and road behaviour in winter conditions. The rubber mix is also better suited to real (cold) winter temperatures; they feature slat technology (combined with a block structure at Aeolus) and offer maximum grip, self-cleansing capabilities, stability and safety. The 'Three-Peak Mountain Snowflake' (3PMSF) marking is issued to tyres that pass practical testing on snow-covered roads. When doing so, they must perform at least 25% better than standard reference tyres.
For more information about truck tyres, sizes and types, please visit the dedicated Aeolus website.